March 07, 2012 (Lahti, Finland) – Hi friends, it's been a long delay in getting my Race Tails out, but I'm trying to get back in the habit.  Here's a report from this past weekend in Lahti:
Quote of the Day
"It was a solid result that gave me confidence that I had recovered from the sickness and still had a strong base of fitness to draw from in the final races."
What's Coming Up
3.7.12  World Cup – Drammen, NOR Classic Sprint
3.11.12 World Cup – Oslo, NOR 30km classic mass start
3.14.12 WC Finals – Stockholm, SWE  Classic sprint
3.16.12 WC Finals – Falun, SWE 2.5km skate prologue
3.17.12 WC Finals – Falun, SWE 10km Classic mass-start
3.18.12 WC Finals – Falun, SWE 10km Skate Handicap start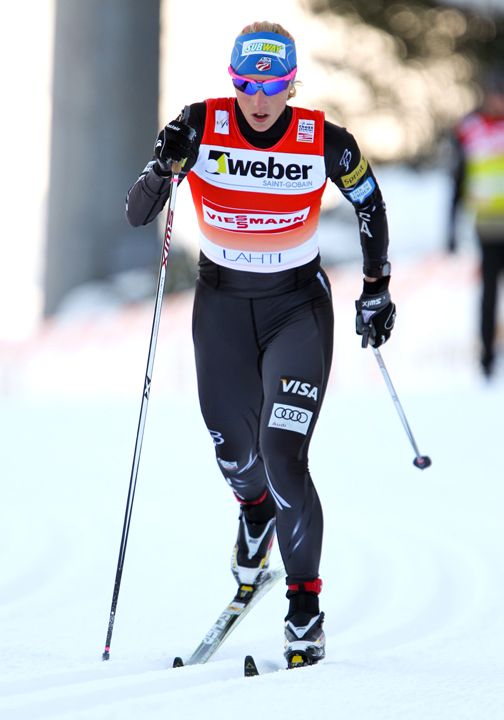 The Kikk Notes:
Just wrapped an exciting weekend of racing in Lahti, Finland to kick off the final period of the 2012 World Cup.  I was a little anxious coming in after having just recovered from a 2nd round of the stomach flu a week before.
The first race was the 7.5km+7.5km Skiathlon.  Both the classic and skate courses were challenging with big climbs.  I had a great starting position as bib 9 but right from the gun I had a hard time following the opening pace.  My legs felt heavy and unresponsive and the pace was fast.  I didn't panic however and by the 2nd classic lap I was feeling better.
I came into the exchange in about 18th place and started to feel peppier as I headed out on to the three skate laps.  Right away I started to gain some places and by the 2nd lap I worked up to Ukrainian skier Schevchenko.  We worked together over on the final lap but couldn't quite reel in the group a tantalizing gap in front of us.  I won the sprint for 12th place.
It was a solid result that gave me confidence that I had recovered from the sickness and still had a strong base of fitness to draw from in the final races.
The second day was a grueling 1.4km classic sprint.  Conditions couldn't have been better, it was sunny, the tracks were frozen and fast and our techs did a clutch job of nailing the skis all day.  As the sprint cup leader going into the final three sprints of the year, all classic (my weaker of the two techniques), I was anxious to put down a good performance.
I started off the day on a good note, feeling strong in the qualifier for 5th fastest.  Despite not feeling great in my second warm-up, I skied a smart quarterfinal, staying close to the front over the first half and then coming on strong in the last climb to be the first to advance.  In the semi, I felt even stronger and although Kowalczyk pushed the pace from the gun, I held a solid 2nd to advance to the final.
I was psyched to be in my second-ever classic sprint final.  The pace from the gun was all out.  I tried to keep contact, but struggled, feeling much more tired than I had in the previous heat.  Up the steep climb, I choose to get out of the track to herringbone at midway, which hurt my momentum, and I lost touch with Falla in 4th.  I was able to regain some ground on the fast downhills, especially going into the infamous Lahti hairpin with a bit of reckless abandon (I figured I had nothing to lose), but couldn't quite get past Falla to the line.  I finished 5th.
While I've had many podiums this season, finishing 5th was still a great feeling.  I managed to add a few more points to my lead in the sprint cup and it's a major improvement from where I've been in classic sprints before.
Now the tour moves on to Norway.  We have another classic sprint on the city streets in Drammen right again on Wednesday.  We've reached the point in the season where we've done all the training we can do, and now all we can do is rely on what we have built.  Time to just go out and race!
For more news and photos check HERE.
Follow me on
<http://t.ymlp227.net/jwavamsehagambadamj/click.php>Twitter & <http://t.ymlp227.net/jqaiamsehaoambadamj/click.php>Facebook
Back in Action in Lahti!