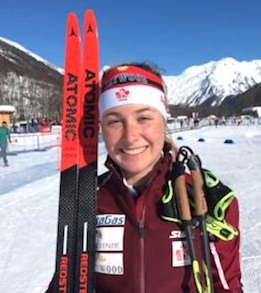 January 29, 2018 (Goms, SUI) – Canada's Laura Leclair raced to 15th in the U23 Women's Sprint FR on Sunday with teammate Maya MacIssac-Jones in 18th as Norway's Tiril Udnes Weng took the win over Nadine Fähndrich in second and Natalia Nepryaeva (Rus) in third.
Lauren Jortberg was the top American in 22nd followed by Katherine Stewart-Jones in 23rd with Julie Kern (USA) in 27th for five North Americans in the top 30.
Canada's Ricard Izquierdo-Bernier finished 40th in the men's race with Bill Harmeyer the top American in 46th. Norway swept the men's podium with Erik Valnes winning over Jan Thomas Jenssen in second and Even Northug in third.
Women's Qualification here – Final here.
Men's Qualification here – Final here.