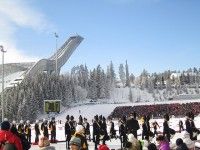 Holmenkollen venue.
March 09, 2011 (Oslo, Norway) – Sorry for the delay but we ended up with very slow internet connections over the final few days of the Oslo competitions, and also traveling home made for more sketchy internet connections. Here are some last impressions about our final days in Oslo.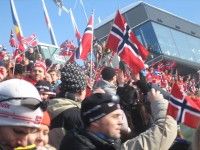 Norwegian fan frenzy.

Women's Relay – Day 9
Back to the races – on site! The end of the World Championships is approaching which means it's time for the relays and the final "King" and "Queen" of the distance races. Over the past few days there have been some holes in the crowd as many fans have had to return to work or school but tickets are more or less sold-out for rest of the Championships and we expect some intense racing!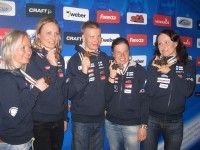 Finnish medalists.
As mentioned before, we have observed great sportsmanship here and while skiers are certainly competitive and driven, they are also very gracious and dare I say "normal" people despite their status. As journalists here we have seen what's been written and how it was written, as well as the athletes in action, on the trails, and at the press conferences and there is somewhat of a difference.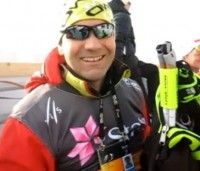 One Way's Andreas Bennert.
The headlines do not always give the true picture, though it seems that some controversy can be good for the sport since we seem to survive the headlines. It's only natural that some characteristics of a skier are either highlighted or ignored and skiers sometimes exchange words with each other that seem unnecessary – but taken out of context these things are sometimes made into a bigger deal than the skiers themselves think they are.
Aside from watching the races and enjoying the incomparable level of energy in the stadium, after a "recovery" dinner, we ventured over to the Finnish Team's hotel to have a celebratory piece of cake with the medal winners, their teammates, and the coaching staff – see more photos HERE.
We also caught up with Andreas Bennert from One Way:

Men's Relay – Day 10
We thought yesterday was crazy and loud (Women's Relay). But Wow – today was even louder. Are these Norwegian fans just getting "warmed-up"? Today's racing was unbelievable!! (but you're all aware of the results already, so I will not go into detail. Suffice it to say that this race also required spectators to go find recovery food and drink after the competition. Whew.
Before the race started a group of old guys walked into the stadium. They looked like they were familiar with all of the hoopla… in fact, they looked very familiar. They were none other than Oddvar Brå, Harald Gronningen, Tormod Knutsen, Gjermund Eggen, Odd Martinsen and Vladimir Smirnoff!
Those guys hold more medals than any group you could possibly find "by accident" on the race-course. This is definitely the mecca of Nordic skiing. Thomas Alsgaard was a regular commentator on NRK (Norwegian TV), Bente Skari was Chief of Competition, Yelena Välbe was seen regularly (she is coaching now), Björn Daehlie was hanging out… and this is just to name a few of the medal winners and former World Cup and Olympic skiers that were at Holmenkollen.
Here are some of the folks we sought-out/ran into today.
Finnish Member of FIS

Chief of Competition – John Aalberg

Catching up with Atomic's Roman Toferer

Taking a look inside the Norwegian wax truck with Knut Nystad

Chatting with Marit Bjoergen's personal wax tech

Wrap Up
The races were followed up with some Italian food with our cousin/niece. Ritva balanced out the racing excitement with a trip to a concert with her cousin (Tord Gustavsen – Norwegian jazz musician – if you like jazz, especially piano jazz, I recommend looking up this guy and/or his trio – the music takes you to another place).
The concert was held in Oslo's Cathedral (more info HERE), which recently re-opened after some renovations. The church is beautiful, but the pews sure are hard to sit on after a day of running around Holmenkollen!
On Saturday morning, Ahvo returned to the US for the Junior Olympic action while I stayed in Oslo, but opted to stay in town and take in the excitement from another vantage point. Part of me wishes I had gone up to the race course as the sun finally came out but I opted to try something new. My flight on Sunday left early enough in the evening that I had to read up about the 50km later.
The trails will seem a bit quieter after this experience, but I think it is safe to say that both Ahvo and I have some really fond memories of this trip. I know that he has wanted to watch the Word Championships in Norway for a long time (15 or more years), and I decided that I wanted to watch the WC in Norway after watching his videos from the Lillehammer Olympics in 1994 and experiencing a little Nordic World Ski Championships in 1995 when the whole family went to the WC in Thunder Bay.
I am still trying to figure out if this want/need to go to Holmenkollen for the WC is a result of nature or nurture. I doubt that any country can stage the Nordic Worlds as well as the Norwegians can, and I have a hard time imagining that there could be a more ski-crazy nation. I also wonder who makes the Norwegian flags… they must have a pretty fat checkbook by now.
At this point I would also like to mention the hotel that we stayed at – the Hotel Guldsmeden Carlton Oslo (more info HERE). The hotel was on the smaller side and has only been open since about October. They are currently polishing off a spa in the basement and have very comfortable rooms, a tasty breakfast buffet and nice location not too far from the harbor, public transportation and Oslo center.
The staff were fantastic during our stay. I have never met a more hospitable and friendly group of hotel staff in all of my travels. Should you be traveling to Oslo in the near future, check this place out and say hi to the hotel manager Kim (who speaks impeccable English and is actually from Denmark).
For a quick look around the lobby with Kim, check out this video:

That's it for now! We hope you all have enjoyed reading about our adventures (and secrets) and also hope that at least some of the excitement from this event has been transferred to you through our coverage here at SkiTrax. An event like this is an excellent reminder of the many positive things that can be experience and absorbed from our sport.
Keep on skiing!