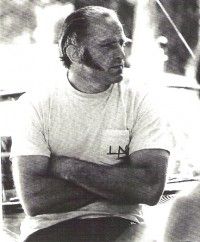 Marty Hall circa 1970s
October 21, 2011 –
Flu Shot Time
– should not be a question as to whether or not you get this year's flu vaccine. If it is a question in your mind, please talk to your doctor. Last year because the H1N1 flu was a thing of the past, people by-passed the flu shot in droves – BIG MISTAKE!
As an athlete you have the responsibility to do everything in your power to maintain your health, and the world you travel in, exposes you to tremendous compromises of your immune system.
This is one check box you have to fill in – go see your doctor – don't throw your season and maybe your career under the bus over not getting this simple act done now.
Training Zone Guidelines – the standard 5-zone system is in question and has to do with discussions between Benjamin Sadavoy, Kikkan Randall and myself, with respect to her recent Training Rap at skitrax.com with Benjamin acting as the intermediary.
A 6th Zone or Racing Zone (RZ) as I would like to suggest, would have all the parameters of Zone 5 heart rates, types of training, length of effort and workouts, with the discerning difference between these two being the psychological aspect of putting on the  racing bib and having this particular effort being identified as a RACE.
I feel this designation is valid, in that there is nothing you do in training that clearly resembles anything like a race, therefore, the need for this extra zone and the clarification.
Let the discussions begin!
Keep Your Fingers Crossed – as the IOC has one of its most important anti-doping decisions to make in its history, for more details read HERE.
In my history with both National Teams as the Head Coach and all the meetings I attended, it became apparent that the athletes when they were organized and had feedback for the top organizations, such as the IOC, or in our case the FIS, their requests or recommendations had a strong impact at the highest level.
To have the sanction of an Olympics life-time ban would be really about as strong a deterrent for cleaning up all Olympic sports as you could ask for. Also, with the inclusion of the sanctioning of the athletes entourage also would bring about these people having to weigh the consequences of their actions, if they were considering aiding and abetting the athlete.
But perhaps the strongest recommendations came from the working group on anti-doping.
One recommendation was that athletes "convicted of a deliberate and aggravated doping offence should receive a lifetime Olympic ban." In addition, "coaches, doctors or any other members of an athletes' entourage found to be taking part in illegal doping practices must be convicted and sanctioned."
This statement is so simple, but so inclusive, and makes so much sense that I cannot not see the IOC Executive Committee not moving forward with the decision to approve. Then it would really encourage the rest of the international organizations, I would think to follow suit – spelled life time ban!
I encourage all of you who have any input with the hierarchy of skiing, you coaches, administrators, and politicians to speak with these people about your support for this ever so important direction in the fight against doping. Please be sure to speak out and be heard. Let's finally level the playing field.
Quebec's Olympic Bid – Turned down again, but not by the IOC, but by themselves, even before they moved into the bid process. You can't win if you don't bid and to say they are lacking in some critical areas is not a legitimate excuse as there will be at least 10-12 years minimum until their Games occur, plenty of time to correct these kinds of issues. If they feel they need to strengthen their bid why not just step down a level and host World Championship type event to prove the legitimacy of their organization in the international arena.
How about hosting the FIS World Nordic Championships? The Quebec City environment and spirit would lend its self well to hosting such a games and would be able to work off of the fact that these championships have been hosted only two other times in North America and it will have been  20-25 years since the last time. A real feather in their cap to making the next step—a real serious bid for the Olympics. Bon Chance Quebec City!!!
Here's Where You Can Help – Some really cool people have come up with a very homey idea for fund raising and you have to thank the Kaeding's (read below) for supporting this idea and making it happen at their home. If they hit their numbers they are going to raise a whole $1,500 dollars and they should have a sellout crowd I would think.
It's a very local effort, but if 10 or 20 of these were to happen now you are getting into some serious fund raising dollars that can offer some serious support for trips and athletes getting the most important international experience they need to climb their way to the podium. So, expand this idea.
By reading this and using the address at the bottom you can help NNF really having a successful dinner – all the information is below. You won't get the chance to be at the dinner, but you will be helping two great skiers and people, Liz and Andy, help their team. So, get out your pen and checks and make your $50 contribution, so this will really be a great meal. Address info below.
Meet, listen to, and share a gourmet meal with Andy, Liz and Dave as they share their life enriching lessons of the trail.
"For the Lessons of the Trail Are the Lessons of Life"
Dinner at The Kaeding Household
55 Kaeding Road
Worcester, VT
05682
$50.00 Fundraising Dinner with Olympians Andy Newell and Liz Stephen plus NNF Director Dave Knoop in support of the National Nordic Foundation Oct 30, 2011 – 4 P.M. Suggested Minimum Donation Benefits the NNF
Dinner Limited to 30 Lucky Guests
RSVP to 802-249-8345 or gus.kaeding@cxcskiing.org
Support Tomorrow's Stars Today
The National Nordic Foundation exists to help America's young, dedicated, and driven Nordic talent realize their, and America's, long term potential in sport and in life.
The biggest hurdle facing American Nordic racers is gaining consistent access to international quality coaching, training, and racing experiences from ages 15 through 25.
Providing future generations of U.S. Nordic athletes earned access to a progression of international quality competitive experiences, and there life enriching lessons, represents this nation's greatest Nordic development opportunity and funding need.
The National Nordic Foundation exists to fulfill this need. Please donate to the National Nordic Foundation and support tomorrow's stars today as their quest for athletic accomplishment on the trails prepares them to achieve their potential
in life while inspiring others to do the same.
Support Tomorrow Stars Today – For the Lessons of the Trail Are the Lessons of Life
National Nordic Foundation
32 West 200 South # 149 Salt Lake City, Utah 84101
nccsef@gmail.com
NCCSEF.
Dasha, What a Mess – From what I can see and ascertain, you've done little right for the last couple of years and I only know some of the story. Also, it seems you may have problems with authority figures, as I understand you had issues with the team's previous coach, Dave Wood and now with current coach Justin Wadsworth – Dave's replacement – that everyone else on the team seems to like, but you're having issues again.
The team program and contract don't seem to be to your liking – you want your own program and want to be your own boss from what I can see. It doesn't usually work that way, but my guess is you've created such a fuss that the HP Director has created a new team designation for you so they don't have to go through all the appeals, arbitration, etc. that would come into play if they just kicked you off the team.
As you say in your SkiTrax interview HERE , you don't like all the travel and quite a few other things to do with being an international XC skier.
What I think and know about the team contract dates back to the 80s when I came to Canada to be the Head Coach. After the 1st year of dealing with a number of recalcitrant skiers – perhaps like this situation – I initiated the first team contract.
It was a simple process, it out lined the program, the skiers made a commitment to the program and signed the contract. No signature, no commitment, and then you could  go ski for the provincial program or your career was over, your choice.
There are certain responsibilities that you have to engage in to be a successful international racer and if you don't follow this path you are going nowhere – it's as simple as that. If I was the Head Coach and given this situation you would be gone – with no recourse. No one is bigger than THE TEAM – no one – not the coaches, not the skiers, not even the administrative people. They all come and go, but THE TEAM and its programs are still there.
Like I said I would have fired you in May in Bend, Oregon. In my opinion the problems created by this situation for the administrative people, the coaches/technicians and within the team, far outweigh any skier's worth to the team.
Oh, and don't think I don't know about the money via the carding system – the $18,000 from your National Team affiliation, another $12,000 from the Quebec carding and of course your sponsorship money from Saputo which comes from your affiliation with the National Team which I'm guessing is $10,000 to $15000. Be tough to lose that – you want the money, get with the program.
Yes, you've put quite a load on your plate for this year – there is more than enough pressure racing internationally as it is. I just hope you've had your nose to the grindstone in your training and I'm wishing you all the good luck possible, as you are going to need it.
Talk to you all soon.
Misterxc@aol.com