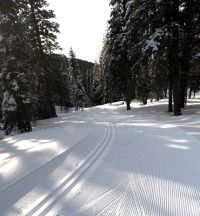 November 29, 2011 (Bozeman, MT) – The USSA Super Tour races scheduled for this weekend in Bozeman, Montana, are in jeopardy of being cancelled due to lack of snow at the Bohart Ranch race site. According to an update on the web site of the Bridger Ski Foundation, the event organizer, "…snow conditions are deteriorating at Bohart.  A race on the FIS course is out of the question.  We are still hoping for a few inches in order to hold the race on a 3km loop." Nonethless, the Bohart Ranch trails are in dire need of fresh snow even to hold the races on a shortened loop.
The Super Tour races scheduled for the weekend include a freestyle sprint prologue and individual start freestyle races on Saturday, December 3, and mass start classic races on Sunday, December 4.
While Bohart had decent snow conditions up until a few days ago, a spell of warmer weather has melted much of what was there and the trails are now covered with little more than a thin base of ice.  "If we don't get any snow tomorrow, we're cancelling," said John Skemp, a staff member at Bohart Ranch, when reached by phone by SkiTrax.
Skemp was optimistic, however, in light of the weather forecast for tonight and tomorrow: "They're calling for 3 to 7 inches and a winter storm warning tomorrow, starting at 8 a.m. and continuing to midnight." Kemp said that race organizers from the Bridger Ski Foundation would make a final decision on whether to cancel or run the race on a shortened course at noon local time on Wednesday.
Visit the Bridger Ski Foundation web site HERE.