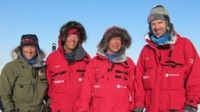 December 14, 2011 (South Pole, Antarctica) – FIS Cross Country Chairman,Vegard Ulvang, along with Jan-Gunnar Winther, Stein P. Aasheim and Harald Dag Jølle started their expedition to the South Pole on 14th October.
The Expedition is one of the projects within the Nansen-Amundsen Year 2011, and will be an official celebration of the fact that 100 years have passed since Amundsen was the first man to reach the South Pole and that it is 150 years since Fridtjof Nansen was born. Today at 11:30, Vegard Ulvang and Harald Dag Jølle completed their expedition, reaching the South Pole.
The expedition could not be started before the 1st of November, as the weather did not allow them to be flown in to the Bay of Whales. Having been behind Amundsen the whole way, as the four men wanted to ski the exact same route, several challenges aroused, but they also learned to appreciate small things that could make the trip easier. Walking 1311 km on skis can challenge your motivation. On November 5th, the guys wrote in their diary: "We encourage ourselves out here on the ice by taking note of every new milestone. Today we had several reasons for celebration. We have passed 80 degrees south latitude. We have put 100 km behind us. When we set out five days ago, we had over 1300 km to the Pole. Now we are down to 1100 and some. We have reached Amundsen's first depot. And last but not least, we are catching up with Amundsen! Today we narrowed his lead by 23 km".
To be sure two of the explorers made it on time to the South Pole for the official celebration; they chose to be flown in 2 days before. The expedition still had 80 kilometers to go. Vegard Ulvang and Harald Dag Jølle decided to continue, using their very last bit of energy and power left, and finish the route as planned.  "We'll stop complaining about the snow conditions, but it's possible that skiing 50 km is far easier in other parts of the world. Here it took us nearly 24 hours. In other words, we have turned our normal rhythm upside down and are doing everything in our power to reach the South Pole by the fourteenth. We have two days and 80 kilometers to go. It ought to be doable".
All four members of the expedition are now gathered at the South Pole, to the day 100 years after Roald Amundsen's great achievment. Vegard Ulvang and Harald Dag Jølle completed the expedition on ski and reached the Pole at 11.30 am Norwegian time (11.30 pm New Zealand time, which is the local South Pole time). Relieved and exhausted. Right now they are taking a well-deserved nap and rest during the night at the South Pole.
Amundsen wrote the following on this day 100 years ago: "So we arrived, and were able to raise our flag at the geographical South Pole – King Håkon VII's Vidda. Thank God! We have had our celebratory meal – a little piece of seal meat each".