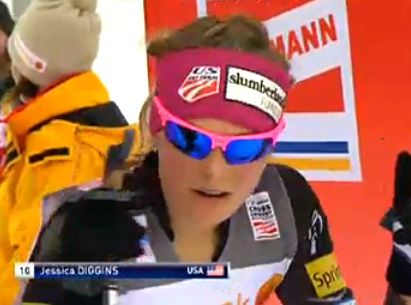 Jessie Diggins
January 24, 2012 – I've got to keep this short and sweet for now, but I'll add some pictures when I get a chance! Today was the first time I got to race a World Cup distance, and the 10km classic was without a doubt the toughest course I've ever raced! But our wax techs and coaches were amazing and although my technique fell apart sooner on the hill than the girls in front of me, I definitely had the kick to stride farther! And the downhills? Oh man, they were SO fast. Some of the coolest rollercoasters out there.
As much as I wanted to grow wings for the climbs, what I really needed was a drag chute for the downhills. I almost flew right out of the tracks going over one of the bumps – the wind caught me up and pulled me out of my tuck, and I thought "if I fall here, I'm not only going to have a bad race – I'm straight up gonna die" so I pulled it together and told myself, out loud, to focus on the corners.
When I came through the stadium for my second lap, Astrid Jacobsen tracked me and I practically jumped out of the way. Growing up hearing about her and the rest of the Norwegian women, it was like being tracked by Wonderwoman. I tried to hang onto her but she passed me like I was standing still!
Boy, that second lap was tough. I was definitely coming unglued and even the coaches noticed I looked "a little rough". Thanks to them for putting it so delicately, because that probably means I was visibly struggling with the enormous climbs. But I held it together long enough to cross the line for my best result of the year – 18th! The best part about this is that North America put four women in the top 30 today. WHoo!