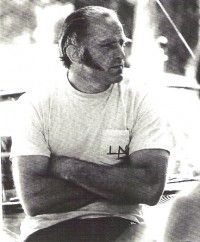 Marty Hall circa 1970s
February 08, 2012 –
Can you believe the results these kids from both the US and Canada are producing? It is almost friggin' unbelievable – not just individuals, but in droves, and there are more people to be heard from before these guys are done this year. The fire and the spirit is spreading and can you believe the fun and good times they're having doing it.
Kris Freeman - I've got to say a few words about Kris as his results have to be about as far from what he was expecting when this year started and it has been one of his biggest career low points – and he has done it like a pro. He has not missed a single WC race until the sprint in Moscow just the other day. He has explained his personal plight early on, and has competed in a couple of extra races in Seefeld and Bad Ischl, Austria, looking for that Freeman magic. It was great to see his breakthrough in Rybinsk back to where he belongs in the results (13th and 15 sec out of 1st place) – way to go you tough old bird!!!
MIA (missing in action) - Where has the Canadian women's program gone again – no Rybinsk – so, no racing and relegated to another training period, again? This team has been weak in distance racing and had just started to show some small gains in Oteppa and then they are pulled off the circuit. If the Canadian coaching staff needs a model, just look to the south and see what your neighbors down there are doing. They are throwing tons of women onto the circuit – the TdS and a full intro to the whole WC circuit. Even broken bones doesn't sway their focus for racing the WC circuit. Time for you guys to bite the bullet – your ladies' program is in a deep hole and it isn't moving forward with this focus and format. Give them a chance to grow and get what ever message they need to get. You can't get a breakthrough if you aren't doing the racing.
Jessie Diggins – A star has been born – enough said!!
Moscow and Rybinsk – lousy course in Moscow for the sprints – sparse crowds – very sparse and FIS will have that participation problem for years to come. There aren't enough points to sway the cups so that the top guys can't make up the difference in the rest of the schedule. The travel and weather makes it too much of a health risk.
BUFFS - when you have locals like Moscow and Rybinsk don't you just love your BUFFS!!
Randall - Can she hold off "the Big Three" – Mateeva (109 points behind), Kowalczyk (147 points behind) and Bjoergen (long shot – 237 points to make up) – only because she has done some amazing things in her career? There are 4 sprints left – 1 free and 3 classic – win the next sprint in Szklarska Poreba and the pressure really goes to these three and away from Randall. Every one has had their bad days lately – this is really getting exciting!!!
"The Man" - about this time last year Devon Kershaw was looking for the duct tape and trying to patch all the holes that were leaking oxygen in his system – literally limping to the end of the season. Yes, he and Alex won the gold in Oslo, but there wasn't much more to write about in the rest of his races, actually all the way from the TdS he was only producing single WC points in his WC races to the end of the season in Falun! Since this year's TdS he has been podium man – double and triple WC point productions. He is the man and a great example for all the other NA skiers to model themselves after. If you want to educate your self as a young and up and coming racer go look at the FIS web site and check racing histories for Devon, for the boys, and Kikkan, for the ladies, and see how it gets done – 10-12 years of pounding the snow flakes and everything else that it takes to get to the top – they are great models and mentors for all that they have given back to the sport already.
Talk to You Soon, Marty