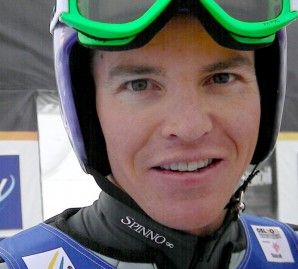 February 09, 2012 (Val Di Fiemme, Italy) – After a first part of the season that was often rife with frustration, the results prove it. Billy Demong is back.
And it's not like he ever really left, but now at the mid-point of the season, he's found his form; especially in jumping. The results of the last two weeks have shown a marked improvement.
Olympic gold medalist Billy Demong (Vermontville, NY) was  indeed back on the World Cup podium Sunday after making up a minute and 22 second deficit to finish less than four seconds behind Japan's Akito Watabe. Demong was 17th after the jump but posted the fastest cross-country ski time to land on the podium.
It was his first World Cup podium since a win in Val di Fiemme, Italy in Jan. 2010 and he smiled and said it feels good to be back. "I hadn't really thought about it until we got the the press conference and realized the last time I was on a World Cup podium was when we were in Val di Fiemme in 2010 right before the Olympics. It's been two years, and the same location. It's good because it's the site of the World Championships next year," Demong said. A venue that has been kind to USA combined fortures over the years, a place where Johnny Spilliane won his world title in 2003.
Those who know Demong well, cite his unbelievable work ethic and dedication to the sport, that speak volumns about him. Demong himself shared with skitrax.com in an interview today that it was really all about returning to full-time training. "For me this season has been all about returning to full time training as well as seeking top results. Predazzo marked my first podium since 2010 and I feel like it was a well earned struggle in refining my thoughts and form. The racing has been solid this season but it was finding the jumping as well as the right way to finish that made the difference."
Demong also has tried to be patient. "At the end of the race I had enough energy left to keep pushing. On Friday I started very, very hard and yesterday I was really tired. Today finally was a good race from the start to the finish. I'm really happy now.
"The courses are super hard here. They are revamped. I don't know if I ever skied a harder cross-country course than today."
Demong, also stressed the overall team vibe and results are encouraging. "It's been a solid season especially for the team as a whole with the Fletcher brothers stepping it up on the World Cup and some of our younger guys like Adam Loomis, Michael Ward, Cliff Field, Eric Lynch and the crew doing some great things in the Continential Cup. I am committed to Sochi and excited about the path myself and my team are on," he added
Nordic Combined Quotes:

Bryan Fletcher
Seeing Billy on the podium is extra motivation. I'm extremely excited for him and where we all ended up today. I've been trying to get on that step for a while. Today I jumped well and was right there. I was in fourth until the last 500 meters to the finish. I was so close. It just comes down to the sprinting and the luck at the last little bit. I'm extremely motivated now because of that and I'm hoping to get a podium before the year is over. I feel like I can do it. It's the goal.
Taylor Fletcher
I was super stoked with how everything went today. My jumping has been getting steadily better and better over the year which makes things easier in the cross country. To actually put two and two together was a really good feeling. I'm excited to be going back to Klingenthal since I just won a Continental Cup there last week. My confidence is pretty high and I feel like I can continue a high level of skiing.
Dave Jarrett, Head Nordic Combined Coach
All of our guys jumped really well, but we have to take out hats off to Akito Watabe who pretty much schooled everyone on the jumping hill and had a big lead. We just knew that this was getting more and more into the wheel house of where we can attack the podium. They did a really good job pacing and not doing too much at the front to help other people. They were in control the whole time. We've been putting a lot of energy into getting it going now and hopefully we can keep it rolling.
Nordic Combined Notes
• Bryan Fletcher (Steamboat Springs, CO) matched his career best World Cup finish with seventh, moving up two spots after jumping to ninth.
• Taylor Fletcher (Steamboat Springs, CO), fresh off a Continental Cup win, earned his highest World Cup result after jumping to 33rd and finishing 14th.
• Johnny Spillane (Steamboat Springs, CO) was 19th, battling sickness this week
• The U.S. Team will take a week break and rejoin the World Cup in Klingenthal, Germany Feb. 18-19.