February 11, 2012 (Ljubno, Slovania) – US athlete Sarah Hendrickson won the Viessmann FIS Ladies Ski Jumping World Cup comeptition in Ljubno today and increased her lead in the overall World Cup by 40 points to 156 points.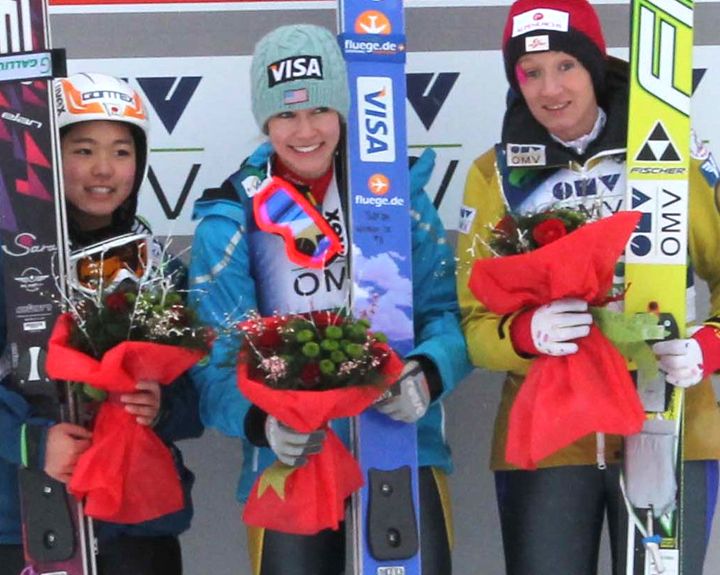 Overall's runner-up Daniela Iraschko from Austria finished third behind Sara Takanashi (JPN) but came back from a poor first jump and a half-time 14th place.
Hendrickson was in the lead after the first round with 85.5 meters and jumped 87.0 meters in the final round for a total of 246.5 points. Takanashi delivered jumps for second place in both rounds (86.5 m and 88.5 m) while Iraschko landed on 81.5 m in the first round and on 90.0 m which meant Ladies Ski Jumping World Cup hill record.
More than 3,000 spectators made the first competition in Ljubno to a remarkable day in the young history of Ladies Ski Jumping World Cup.
The Viessmann FIS Ladies Ski Jumping World Cup will go on with a second competition in Ljubno (SLO) tomorrow.
KEY FACTS
– Sara Takanashi missed the World Cup competitions in Hinzenbach last weekend because she preferred to train at home. The Winter Youth Olympic Games Gold medal winner from Innsbruck is expected to perform at her best at the upcoming Junior World Championships in Erzerum (TUR) later this month.
– Lindsey Van injured on the right knee during the first round but is supposed to start tomorrow. She could renounce at the Trial round.
– Norway's Line Jahr finished 11th and sent — with a message on her gloves — congratulations back home. Both her mother and father celebrate birthday today.
– Evelyn Insam (ITA) celebrated her birthday yesterday, February 10th, and got 12th place today. Melanie Faisst (GER) will become 22 years old tomorrow – today, she took sixth place.
– World Cup Calendar: 12.2. Ljubno (SLO/HS 95), 3.-4.3. Zao (JPN/HS 100 – three competitions!), 9.3. Oslo/Midstubakken (NOR/HS 106).
QUOTES:
Sarah Hendrickson (USA), first:
"The crowd here in Ljubno is awsome. It is great fun jumping when so many people are cheering for you!"
"I had two good jumps and I'm happy with the outcome. The fight between Takanashi and me and Iraschko with her outstanding second attempt was close."
"The overall world Cup becomes more and more reality but there is still a long way to go."
Sara Takanashi (JPN), second:
"I'm happy with my jumps and with second place today."
"I think that I have a possibility to win tomorrow but my performance must be very good. Hendrickson and others are strong opponents."
Daniela Iraschko (AUT), third:
"Still I cannot say that I love that hill but my second jump was really good. We have seen today that you need not one but two good attemps to win. That's my goal for tomorrow. I'm very happy that I came back from 14th place and to finish on the podium."
"It's awsome to see all these people on the hill for a Ladies Ski Jumping competition. I believe that our World Cup series moves in right direction."
"Especially here in Ljubno I do not think on the overall, I have other challenges here. But there are still competitions to come and it isn't over yet."
"Sometimes I think back to my 200-m-flight. But it is hard to beat 200 m on this hill." (laughs)
RESULTS
1. Sarah Hendrickson (USA) 85.5 m (1)/87.0 m (3) 246.5 points
2. Sara Takanashi (JPN) 86.5 m (2)/88.5 m (2) 245.2 points
3. Daniela Iraschko (AUT) 81.5 m (14)/90.0 m (1) 229.2 points
Full results HERE.
World Cup Standings
1. Sarah Hendrickson (USA) 689
2. Daniela Iraschko (AUT) 533
3. Lindsey Van (USA) 334
4. Katja Pozun (SLO) 319
5. Ulrike Graessler (GER) 310
6. Anette Sagen (NOR) 288.
Full results HERE.