February 11, 2012 (Nove Mesto, Czech Republic) – Marit Bjoergen (NOR) bided her time and then pounced near the end to gap her season-long rival, Justyna Kowalczyk (POL), and claim the women's 15km Classic victory, along with the yellow leader's bib. The see-saw battle between them is keeping fans on the edge of their seats as the season winds down to determine to overall WCup series winner – only 12 points separates them.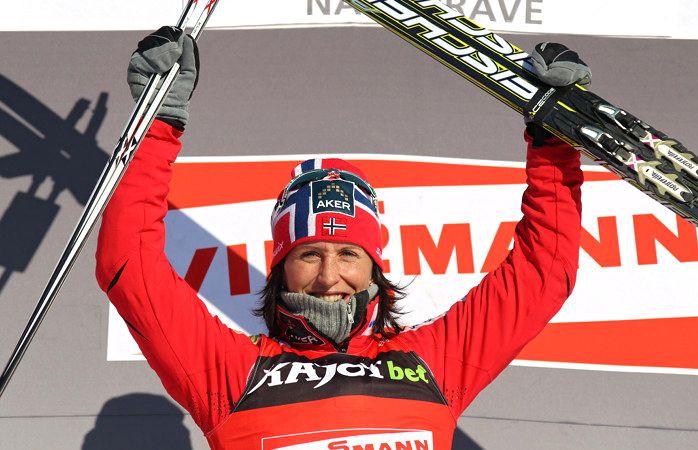 Norway's Therese Johaug could not keep pace and settled for third as Vibeke W Skofterud (NOR) grabbed 4th following a solid challenge from Japan's Masako Ishida who landed her best-ever WCup result in 5th. Charlotte Kalla (SWE), who is battling Kikkan Randall in the overall standings, was 5th on the day and has taken over 4th overall with 992 points bumping Randall to fifth with 970 points. Randall has also opted not race the team relay on Sunday as she tries to get back into top form following her recent sickness.
Canada's Perianne Jones, the lone Canuck in the field, lead the North Americans finishing in the points delivering another strong distance race performance.
"Yeah it was another solid day for me – one more distance point," Jones told us post-race. "Our skis were amazing and I had great kick.
"It was a tough course for sure but I just tried to stay relaxed, climb well and avoid crashing on the downhills. There were a few crashes out there for sure."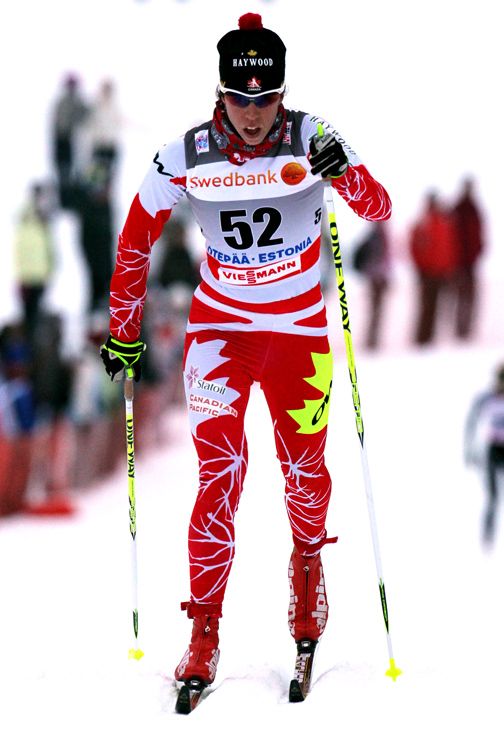 The big surprise was rising American star Jessie Diggins who looked like she was going to repeat her drive through the field but today was not her day. She was as high as 22nd but ended up 33rd.
"I didn't have the spark today; sometimes things click, and sometimes they don't, and that's ok," Diggins confided to SkiTrax. "It wasn't my best race but the skis were fast – a little slippy in places – and I'm not making exuses.
"I didn't quite have it today, plain and simple. It was a tough course and hard race, and I thought our team dealt well with the challenging day."
Like Bjoergen, Diggins is human and as each race adds a brick of experience on her "wall" the rookie star is learning how to take the good with the bad.
The USA's Elizabeth Stephen and Ida Sargent finishe together in 42nd and 43rd. For the veteran Stephen it was a tough day at the office, but ever the optimistic she's pumped for the relays.
"It was a tough day out there for me today. My body was getting really tired and I felt super weak in my skiing. The skis were a bit slick, but the real problem was the body today, and then the head followed. I was charging really hard the whole race, but after the first lap and a half I lost a lot of my confidence out there and went in and out of being discouraged and pulling myself back into the race.
"I took two feeds, which was unplanned going into the race, as it is rare when I take even one feed in a 15km. But today I needed both for sure. I didn't get any splits today, but I knew I was having a tough day, when I was getting passed and caught by pack after pack. Usually it's the other way around in the longer races, as I tend to have slow starts and come on a bit better each lap. 15k's are so fun usually, but todays was just really grueling for me. However, TOMORROW IS ANOTHER DAY AND IT IS THE BEST KIND OF DAY: RELAY DAY!!! Pumped for that so much."
We caught up with Sargent as well who told us her thoughts on the day.
"The pace of the race was really fast from the start. It was hard and it felt more like an individual start race with more people around. It was a super fun course with some hard climbs and a lot of fast twisty downhills.
"Nove Mesto is an awesome venue and there were a lot of spectators and cheering on the course which helped especially when I was hurting at the end.  Tomorrow's relay should be great!"
Another surprise was Holly Brooks not finishing – something rare in her career and Brooks filled SkiTrax in on what happened to cause her to stop racing – partially influenced by Kikkan Randall's decision not to race the 4x5km relay either – see start list here.
"Yep, I decided to pull the plug on the race today. If I remember correctly, this is my first DNF in years and years (even through broken wrists!).
"I've been having some digestive problems since the Russia trip that I just cannot kick. My body felt like an under-powered Fiat and 15km in Nove Mesto is a long way to go if you aren't feeling good. Also, tomorrow's relay was in the back of my mind.
"With Kikkan deciding to sit the 4x5km relay out, I knew that I needed to be ready to go for the relay and I was certain that finishing the classic race would dig a huge hole – one that I might not be able to pull out of.
"Sunday's skiathlon race in Russia was better – my body felt good and I was hopeful that this would be the beginning of a come back. However, I started to feel really bad in Ramsau on Tuesday and haven't been able to shake it. Since I'm not "sick" I decided that I wanted to try racing and unfortunately, it didn't come around.
"I'm hoping that I can keep our team "within contact" of some of the other girls tomorrow and they can work their magic."
Full results HERE.