February 11, 2012 (Canmore, Alberta) – Nathan Smith aimed for the podium at his hometown race and went right to the top. The Canadian posted a blistering fast first lap and was never to be caught at the IBU Cup men's 10-kilometre sprint at Alberta's Canmore Nordic Centre on Saturday.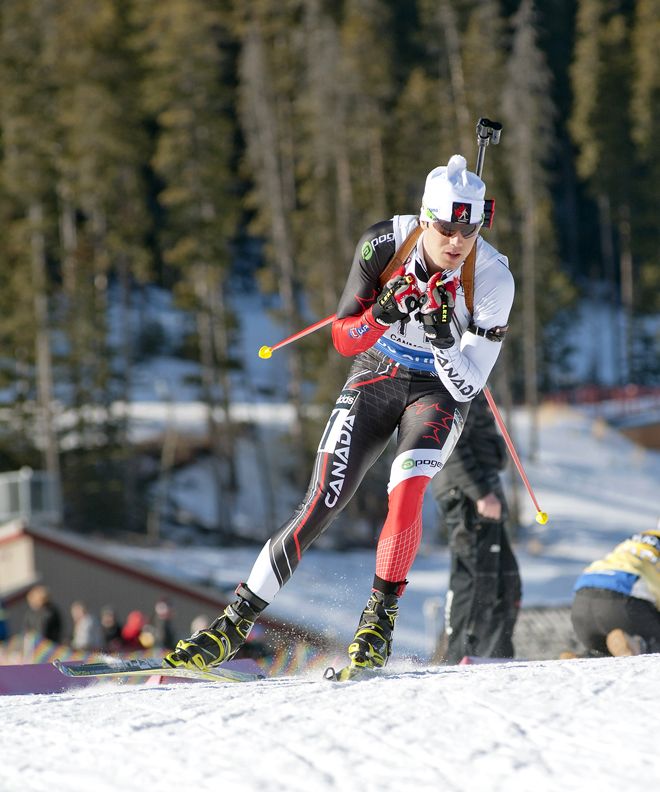 Smith, a member of Canada's national team, chose to return home to compete on home soil instead of staying in Europe for a World Cup meet in Kontiolahti, Finland this weekend.
"Competing in this race was one of my main goals this year, even though it was not a World Cup," said Smith. "It's nice to have a really good result."
Smith, who had a podium finish in mind, completed the race in 26 minutes, 13.4 seconds, Sergey Klyachin of Russia came second in 26:18.4 and Martin Eng of Norway third in a time of 26:20.0.
"I knew if I had a good ski day and shot well I could be right up there," added Smith, who became the sixth Canadian to medal at an IBU Cup earlier this year when he won the bronze in Obertilliach, Austria. "It is really special to win my first race in Canmore. I have trained here my whole life so overall I'm very happy."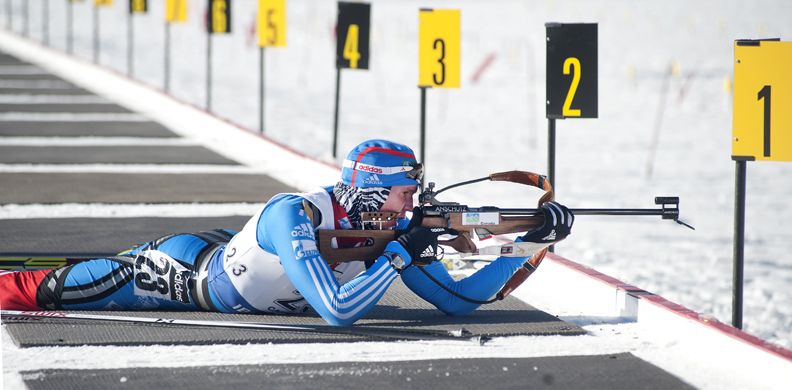 It was Smith's opening lap that told the story despite going out in what he termed a "conservative" pace. The 26-year-old was penalty free and posted a first loop time of 8:39.9. That was almost 39 seconds faster than Klyachin, who had to make one penalty loop, and seven seconds faster than Austria's Friedrich Pinter, who was second after the first loop but would end up fourth on the day in a time of 26:46.8.
Klyachin's first-lap deficit would prove too much to make up even with Smith missing one target his second time on the range.
The Canadian men had three top 10 finishers with Robin Clegg, who splits his time between Canmore and Calgary, ninth and Marc-Andre Bedard of Valcartier, Quebec in 15th.
The top American was Jeremy Teela in 11th place.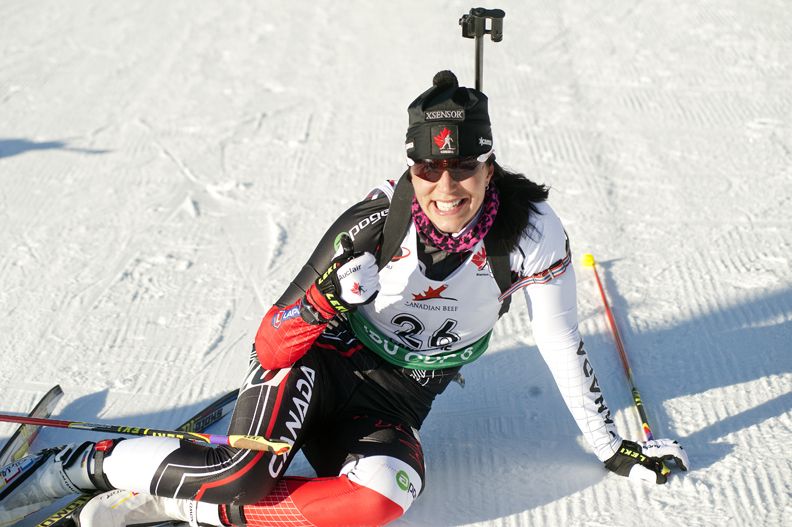 Women's Race
The women's 7.5K sprint was dominated by Europeans. Racing under bright blue skies in the Canadian Rockies, Marina Korovina of Russia took advantage of the ideal conditions to shoot clean and post a winning time of 21:04.7. Germany's Carolin Hennecke was second with a time of 21:07.2 with countrymate Juliane Doll third in 21:13.8.
The Canadian crowd cheered hometown hero Rosanne Crawford to an eighth place finish with Yolaine Oddou of Val Belair, Quebec ninth. Lanny Barnes led the American contingent, placing 12th.
"I knew it was going to be about shooting today and so I took it one shot at a time," said Crawford in a team release. "This is where I train day in and day out and I know everything about this range so it worked today. Ilove Canmore and it is great to be racing at home."
Canmore is the IBU Cup Series only North American stop and continues Sunday with another set of sprint races. Two more races are set for Wednesday, Feb. 14, and Thursday, Feb. 15.