February 12, 2012 (Nove Mesto, Czech Republic) – The US women added another stellar chapter to their fairytale season earning their best-ever team relay 4x5km(CL+FR) result in a photo-finish with Sweden to take home 5th. As expected Norway I won the gold with Finland in second and Norway II in third.
But Team USA came ready to play – decked out in  USA facepaint and knee-high striped USA socks – and ski! All team members laid down some fabulous skiing keeping the team in contention until the final handoff to Diggins, who threw out her game-plan and challenged Swedish star Charlotte Kalla (SWE) to the line with gusto.
We caught up with Diggins, Sargent, Brooks, Randall and coach Matt Whitcomb for their their take on this brilliant day in the team's history…plus check out more cool pics courtesy of Randall HERE.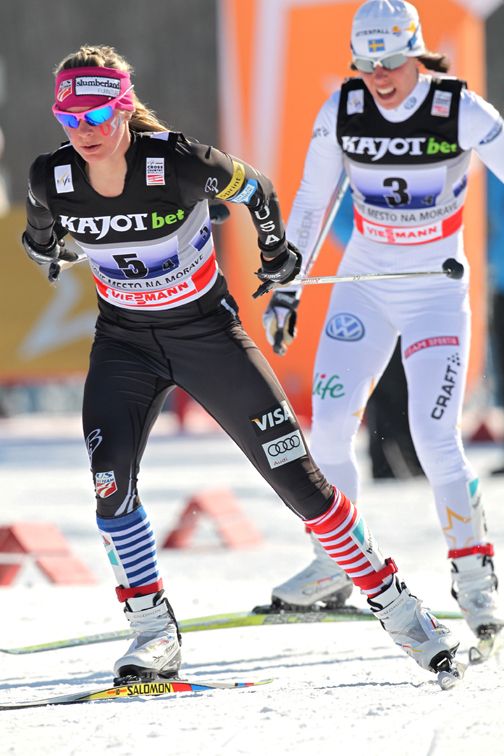 Jessie Diggins (USA)
I was so incredibly proud of our team today – racers, athletes cheering, coaches, wax techs. Everyone was a little tired after yesterday and it was so amazing how everyone just shrugged off the disappointment of yesterday and woke up ready to give this race everything they had. The girls had fun dressing in knee-high striped USA socks and putting on some USA facepaint. We really had fun out there today as a team, and it definitely showed.
One of the benefits of being anchor leg is only having to do one tag off! Which is always good news for me, although it wasn't as crowded out there since the girls over here like to push the pace early on and shatter the pack quickly.
As soon as Liz came through the tag zone and I realized I was right behind Kalla, I threw my plans of "skiing my own race" out the window and proceeded to glue myself to Kalla. It was great to ski with her and though I couldn't get around her in time to pull a great sprint at the end, I'm psyched out of my mind to have been in a photo finish with Charlotte Kalla! My Salomon skis were unreal today – our team nailed it and I'm positive we had the fastest boards of the day!
Ida Sargent (USA)
It was an awesome day for the whole team so we're really excited right now!  We had amazing skis and the course and weather was great too.  Holly tagged off to me just behind a group of about four girls so I sprinted to catch up with them and then skied with that group for the first of the two laps and then tried to move up and drop that pack on the second lap.
I felt really good out there but I was hurting at the end so very excited to tag Liz.  It was my first time skiing the second leg and I really liked it as there was a little more freedom to move around and ski your own race.  Yesterday was a hard day for us so it was great to rebound today. We had red, white, and blue knee socks, face paint, and glitter, and we were fired up.  Our skis were amazing too which makes it fun  Being a part of this team is very inspiring!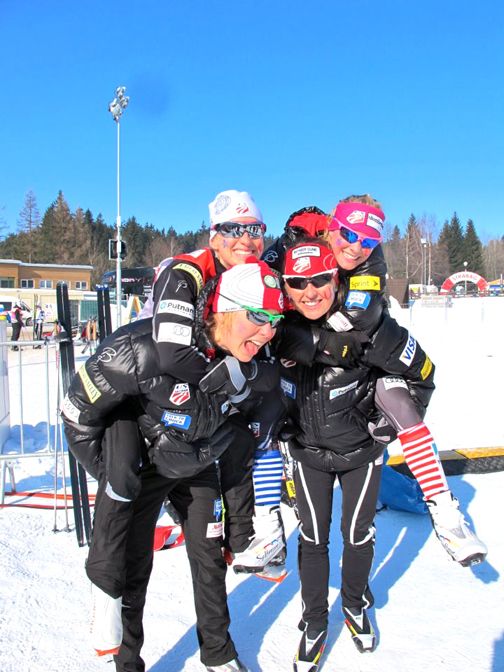 Holly Brooks (USA)
It was a great day out there and a really fun race!  I'm ecstatic about our team performance, especially given the fact that we didn't have one of our strongest teammates on board (Kikkan). I think our 5th place finish today goes to show the depth of our team right now. There are many different combinations of skiers that we can put together that can field a highly competitive team. This depth is important because it allows for some wiggle room with sickness, not feeling well, etc, etc. I'm not a history ski buff but I believe that 5th place is perhaps the best women's finish in history. Also, had it been a World Championship or Olympic year, each country would only be allowed to field one team. Therefore, instead of being in a sprint for 4th/5th, it would have been a sprint for the bronze medal!
I am personally very satisfied with my leg today. After having to drop out of the race yesterday, I was worried and anxious about what kind of performance I would be able to deliver. It's one thing to let yourself down but it's a completely different thing to let down the rest of a relay team!  My goal today was to stay in contact with the other teams and luckily, I was able to do it. The start was quite aggressive and I had to "extend my elbows" in order to avoid being forced off the course, into a drop off at the first turn of the course, after the initial bridge. After that, girls were jockeying for positions and the pack was fairly fluid.  My body held together for the day but I was also helped by some great skis from the wax techs – kudos to them!
This was my first time skiing in the scramble position and I had a lot of fun & I think it suits my strengths. Plus, it was an added bonus to have your leg done first so I could cheer on the rest of the team! Ida, Liz & Jessie all skied so well! It was a great day for us in Nove Mesto and I'm really happy that we were able to put on a good show!  Thanks to everyone for their help, encouragement & support.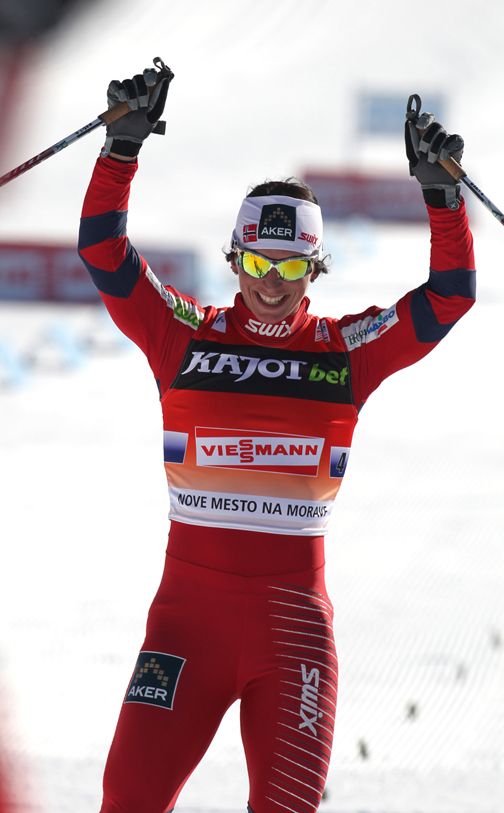 Kikkan Randall (USA)
Super race for the team today, it was really impressive to see each member put in a really solid leg, especially after yesterday's tough race. Holly skied a great scramble leg, keeping the team right in there. Ida skied a really gutsy leg and the couple places she picked up were critical for keeping the team in the hunt. Liz had some serious zip in her step and it was great to see her and Anna ski away from the German team. Jessie showed again that she is not intimated by the big girls, following Kalla stride for stride and even taking the lead at points. Those two were putting seconds into the two teams ahead and were really close to the podium!!!
We've been looking forward to the this relay all season, knowing that if everyone put together good legs we could be competitive.  It was definitely hard for me to sit out today, I would have loved to have been in there. But I needed a few more days to get clear of a cold I picked up in Russia.
It's too bad there are no more relays for the season.  But we are all really looking forward to Val di Fiemme and Sochi now!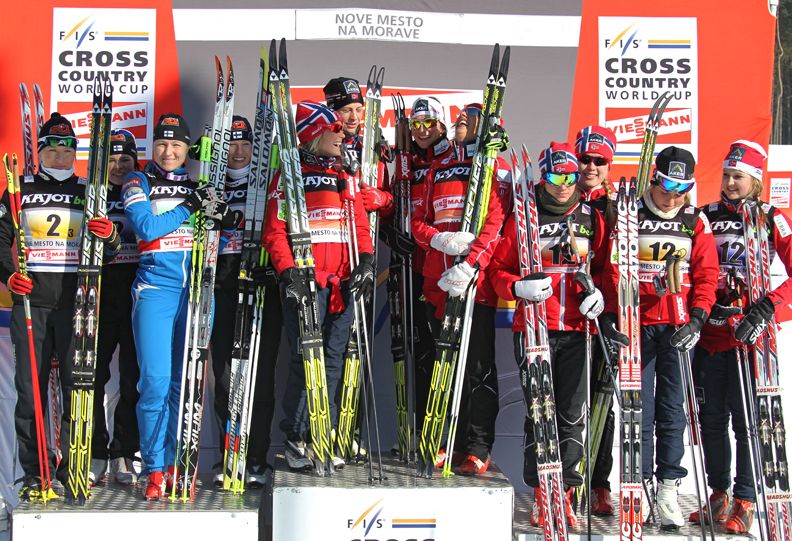 Matt Whitcomb – US Women's Head Coach
Today was a great rebound from Saturday when everyone felt they skied off the mark.  We've had a tired squad this past week linked to hard Russian travel and a mild cold that most of the women have been passing around. We hoped to be recovered for Saturday but apparently it came a day early.
Today was an entirely different level of energy put forth by the team. To be able to sit Kikkan out today as she recovers from her cold and still put together a result like this is a good snapshot of the strength of these ladies. We are moving forward with big visions for the next relay, and we're leaving the weekend with a healthy team.
Jessie skied the fastest fourth leg by one second over Kalla.
Liz skied the sixth fastest third leg, 5 seconds out of 2nd.
Full results detail HERE.