February 18, 2012 (Szklarska Poreba, Poland) – Sweden's Johan Olsson delivered another dominant performance in tough conditons bringing everyone to their knees with a powerful display of classic skiing in the men's individual start 15km CL in Szklarska Poreba, Poland. WCup leader Dario Cologna was the only skier who could respond to Olsson's challenge at 6s behind with Russia's Alexander Legkov in 3rd at 20s.
On a challenging day for wax technicians with mild temperatures Sweden hit the mark on the wax while many faltered including Canada with Alex Harvey leading the charge in 15th followed by Devon Kershaw in 26th.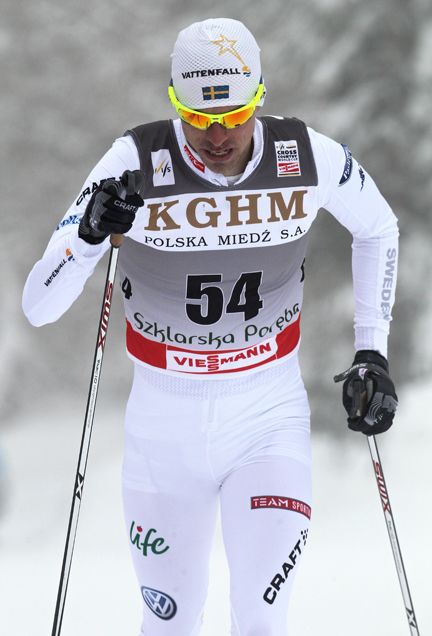 "I had really good skis today. Conditions were very tough as you can win or lose everything. You can lose a lot of time if you do not have the right skis. I was skiing on kick wax today," Olsson told FIS XC.
"I waited as long as I could to make the good choice and I was running to the start as I was almost late. I knew I did a good race from the beginning. I was aware of Dario coming from behind. I will go home now and take it easy with my family. I will start preparing for the 50km on Holmenkollen. The crowds were great today. They were cheering my name every time I was passing along. The World Cup in Poland met all my expectations," added Olsson.
The Canadian team gambled with hairies skis rather than wax and paid dearly. "Yeah, really hard waxing conditons today. We ended up going with hairies skis… probably a bad call since pretty much the whole top 10 was on wax," Harvey told SkiTrax by email.
"I was able to make my skis work kinda ok for the first two laps but the on the 3rd lap the track got pretty shiny/icy and I couldn't get the skis to work anymore so I lost quite a bit of time in the last 5km – which is unusual for me.
"I think the courses are the same as when Devon raced World Juniors here, just a bit wider. It's a good course for distance but not super for sprinting. The sprint needs at least one "real" climb! The fans were great but when I race, I don't really see what's going on around me. But before and after the race it was fun to get cheered on, they even knew my name!
"I'm felling good physically. I feel like I've had some bad luck lately with back issues last weekend and a crash yesterday but I've also had some good luck this season so I'm not to bummed out. Just looking forward to leaving Eastern Europe and get some training in at altitude in Seisser Alm."
Also racing for Canada was sprinter Len Valjas who is improving his distance game and finished 39th on the day. Veteran Ivan Babikov did not finish due to his skis said Head Coach Justin Wadsworth.
Noah Hoffman lead the American squad just out of the points placing 31st. "Today was a really fun course. It had a long, hard, steep climb near the beginning and then some good rolling sections for the remainder of the 5km lap," explained Hoffman. "I felt good but not great today. I am happy with how it went, but looking forward to better in the future. There was a great crowd out there today. It was tricky conditions for the waxers, but they did a great job."
Racing with the Hoff were Andy Newell in 50th, Sylvan Ellefson in 56th and Tad Elliott in 63rd – Newell also shared his thoughts on his races and the inaugural WCup in Poland.
"The courses here in Poland are great although the sprint course is a little boring and flat. The distance course has a massive uphill but it also has lots of turns and rolling terrain so it's fun skiing. XC skiing is pretty huge here (especially women's xc skiing) so there were a lot of fans out there both days," shared Newell by email.
"I'm feeling 100%. Last weekend I was struggling with a back injury but everything felt much better this weekend. Yesterday was frustrating tactically with having a skier fall in front of me on the last corner. But today I felt fine and I think that despite the not so great result it was close to being a much better distance race for me.
"The conditions were a little bit tough out there today for waxing, just like new snow on the ground and the tracks kept on getting more and more glazed. In the morning we were testing hard wax and klister covered – for the race all of us guys went with klister covered.
"For my race I tried to not go out super fast because there was a massive climb out there, but at the same time I put myself in a position fight for a top 30. Skis were working great on the first lap, then a little bit sticky on the second, and then a lot stickier on the third. I think what happened was just that our cover wore off a little bit and made it so the klister started picking up more snow in the uphill. I would say there was a mix of klister and hairie skis out there in the men's field.
"On my last lap I struggled with skis a little bit, but despite my placing it was close to being a much better distance race for me. After I iced badly on the big climb on the last lap I lost about 45 seconds in the last few k's – probably a combination of fatigue and struggling with kick. I think on the splits I was something like 29th first lap, 37th second, and then fell back a lot in the last few km.
"I don't know if I should start more conservatively or not but that's just how I am I guess. My goals for any World Cup distance race is to be in the points so I went out today skiing on pace for points it just didn't work out in the end."
Full results HERE.
Full results detail HERE.
World Cup Standings HERE.