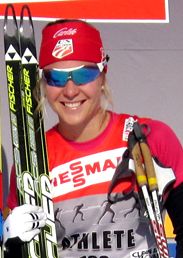 February 21, 2012 (Erzurum, Turkey) – The US and Canadian U23 World Championship teams overcame bitterly cold conditions in Erzurum, Turkey to place five athletes in the top 30 in the freestyle sprint events held today. USST team member Sadie Bjornsen, who has been racking up World Cup starts this season, led the way with a 14th place finish.
In the women's 1.3km FR event, won by Germany's Hannah Kolb, Bjornsen equaled her 11th place qualification result from last year, but a lane choice error at the end of her quarterfinal heat cost her a trip to the finals.
"The quarterfinals were going really great," Bjornsen told SkiTrax earlier today, "the German number one girl and I made a break on the group, but coming down the last hill she looked behind and saw that we had a gap. At that point she slowed down a fair amount, and unfortunately the group began to catch us."
As we came into the final straight," she explained, "I made the decision to move to the second lane in order to not get blocked by her – which had literally not been skied once (so, deep slow corduroy) and that was a mistake. Not only was it slower, but difficult to ski in. Unfortunately the French girl (who jumped in behind Kolb) managed to get me by a hair at the line. So it was disappointing, but encouraging with the fitness I felt."
"Today was the first heat I have skied this year, so I feel like I have almost lost my experience in heats," Bjornsen continued, "The good news was I felt strong and now I'm even more anxious for the distance races to come!! I qualified 11th last year as well and went on to get 17th. This year I qualified 11th and placed 14th…. so not nearly the jump I would wanted to make – but at least it's in the right direction."
Bjornsen's teammate Rebecca Rorabaugh qualified 29th and ended the day in 30th. A surprise no-show in the American line-up, was young phenom Jessie Diggins, who has been making a splash since jumping into the World Cup circuit after the Christmas break.
Among the Canadian women, Heidi Widmer qualified 16th, but ended up in 27th overall after running into trouble near the start of her quarterfinal heat. Widmer, who loves skate sprinting, had a good warm-up and was gunning for a top 12, but came into contact with another skier and lost a ski.
"I was in the third heat and had the second farthest lane from the right," Widmer explained to us, "About 150m after the start, the course turns right, so all the girls were jostling for position to get a good line going into that corner. A Polish skier, bib 25, chose to cut in quite quickly after the double pole lanes ended and she got tangled up and fell beside me. I was relieved thinking I was lucky to have avoided that crash.
"However on my next stride I was lacking a left ski. Somehow, when the Polish skier went down, it must've lifted my binding up and caused it to come off. I whipped around, grabbed my ski and clipped it back in. I actually shocked myself how fast I was able to put it back on.
"I think I was actually laughing at that moment, thinking 'there's no way this is actually happening right now.' I hammered as hard as I could to gain contact back with the pack, but it would've taken some serious magic. I finished the day 27th overall."
Widmer was disappointed but philosophical about her misfortune: "My goal today was a top 12 and I'm really disappointed that I wasn't able to achieve that," she said. "There are always positives though," she added, "I mean I learned how to put a ski back on in a tight situation?! I can be happy that I had a strong qualifier and that I did everything in my power to have a strong sprint day, but the sprinting gods had other plans. C'est la sprint racing vie."
Teammates Emily Nishikawa and Marlis Kromm narrowly missed the heats, after qualifying in 33rd and 36th respectively.
Men's Races
In today's men's race, two American men managed to qualify, with Scott Ryan and Eric Packer finishing in 25th and 26th position on the day, respectively. Close behind, but just outside the qualifying time, were teammates Erik Bjornsen and Reese Hanneman. The event was won by Russia's Gleb Retivykh.
Four Canadian men raced as well, with Graeme Killick just missing out on the heats, finishing in 31st position. Teammates Jesse Cockney, David Greer, and Chris Hamilton placed 39th, 47th, and 50th in the qualifications, respectively. Cockney was no doubt expecting more given that he placed 6th in the sprint event at last year's World U23s in Otepaa, Estonia.
"Overall today was not great and we did expect more," national team coach, Eric de Nys, told SkiTrax after today's races. "However, saying that, all athletes are healthy and despite what the results may say I believe that most of the team exceeded their potential for sprint.
"I think Killick had a good qualifier and skied to his level. Jess obviously under-performed but I know he is in good shape and we will see better from him this week. Greer skied a great qualifier for himself and I think this shows his shape and I think he will be strong in the distance events. Chris Hamilton skied about 40 FIS points greater than his average sprint points so I think this was a good performance for him.
"Heidi qualified well and ran into bad luck losing her ski after 20m in the quarter finals. It was then just too much ground to make back up but she pushed extremely hard to try and close the gap but came up short.  Emily and Marlis just didn't have the speed today."
The U23 World Championships continue this Thursday with classic distance races.
Women's Qualifications 2012CC3225RL.pdf
Women's final results 2012CC3226RL.pdf
Men's Qualifications  2012CC3227RL.pdf
Men's final results 2012CC3228RL.pdf