June 24, 2012 (Alaska) – The other night we went to a Michael Franti and Spearhead concert outdoors (next to the Moose's Tooth, for those of you who know how awesome their pizza is). Because it was summer solstice in Alaska, the sun pretty much never went down and it was an absolutely beautiful night! The concert was so fun, with Franti pulling people up onstage to play guitar and dance, and beach balls flying everywhere.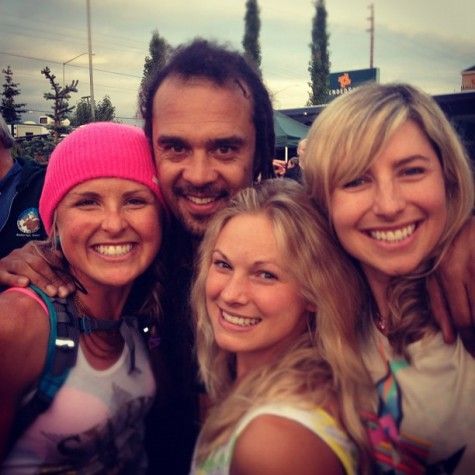 Picture with Franti! His show was phenomenal.
Afterwards, we got to meet Franti and get a great big hug, and he was so cool. We told him that we're skiers and are here for a glacier training camp and he was like "what?!? that's awesome…I want a picture with you girls on MY phone!". So basically, I was hyperventilating afterwards.
The training camp has been going full swing, and I don't think I've ever trained this hard before! Our distance skis are at a really quick pace and we're putting in loooong hours, but resting and recovering just enough to do it again before the next training session.
Then we joined them for lunch and had some good 'ol Q&A, where we answered their questions about what it's like to train as a pro athlete and what's important to building success, like having a good team around you and training smart. It was fun for me to hear the answers of the other girls, especially the most experienced of the group who have been through it all – success, injury, comebacks and changing team environments!
So now there will be a new time to beat next summer, and it's going to be a hard one to improve. But knowing this group of women, I have no doubts that the record time will keep getting knocked down! I've linked the resuts here:  It's definitely a cool feeling to finish a workout and know that you just came one step closer to your goals.
Also, the moose count is now at nine (9), which is important enough to make the blog post, obviously. This camp is pretty much an excuse for camping trips afterwards and wildlife sighting/shooting/grilling/eating.