July 22, 2012 (Norway) – Norway's women dominated the final competition of the Blink Festival 2012 as Maiken Caspersen Falla won the sprint competition on Saturday evening. Falla edged out her compatriot Heidi Weng. Swiss Laurien Van Der Graaf landed in third place. Kikkan Randall (USA) made the women's final and finished 6th while Liz Stephen was knocked out in the quarterfinals.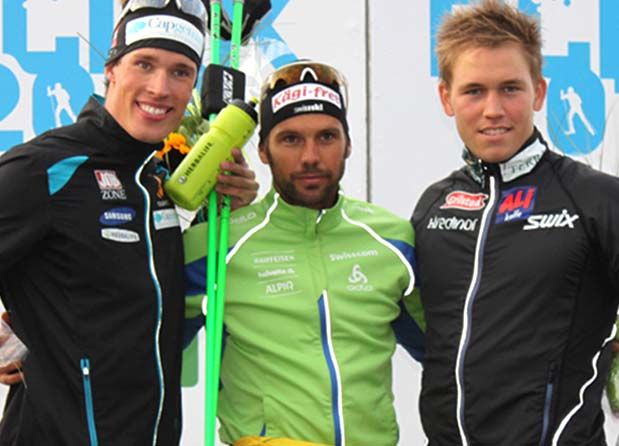 Blink Stage 3 podium
"It's still July and many things can happen, but I feel I'm going step by step. My goal is to settle myself among the World's best," Falla told NRK.
Christoph Eigenmann (SUI) grabbed victory in the men's sprint for Switzerland as he narrowly beat Norway's Ragnar Bragvin Andresen in the last metre. Pal Golberg (NOR) took third place. Oeystein Pettersen, one the greatest favorites was unlucky and broke his pole putting him out of the podium fight.
Results (brief)

Elite Women
1. Maiken Caspersen Falla, NOR
2. Heidi Weng, NOR
3. Laurien Van Der Graaf, SUI
4. Marthe Kristoffersen, NOR
5. Astrid Uhrenholdt Jacobsen, NOR
6. Kikkan Randall, USA
Elite Men

1. Christoph Eigenmann, SUI 2:47.0
2. Ragnar Bragvin Andresen, NOR 0.1
3. Paul Golberg, NOR 0.3
4. Jori Kindschi, SUI 0.4
5. Eirik Brandsdal, NOR 2.1
6. Oystein Pettersen, NOR 46.5