August 24, 2012 – I wrote this article for NNF, the National Nordic Foundation regarding our training camp in Sweden. NNF funded a large aspect of the trip, therefore making it possible for me to attend. I'm super thankful to them and to everyone that has donated to the organization!
I'll leave this article text heavy and picture shy since I've already shared most of the best pics in my previous blog. Or, there are some awesome ones posted on the NNF Facebook and/or USSA Nordic. You should LIKE both of these pages if you haven't already done so.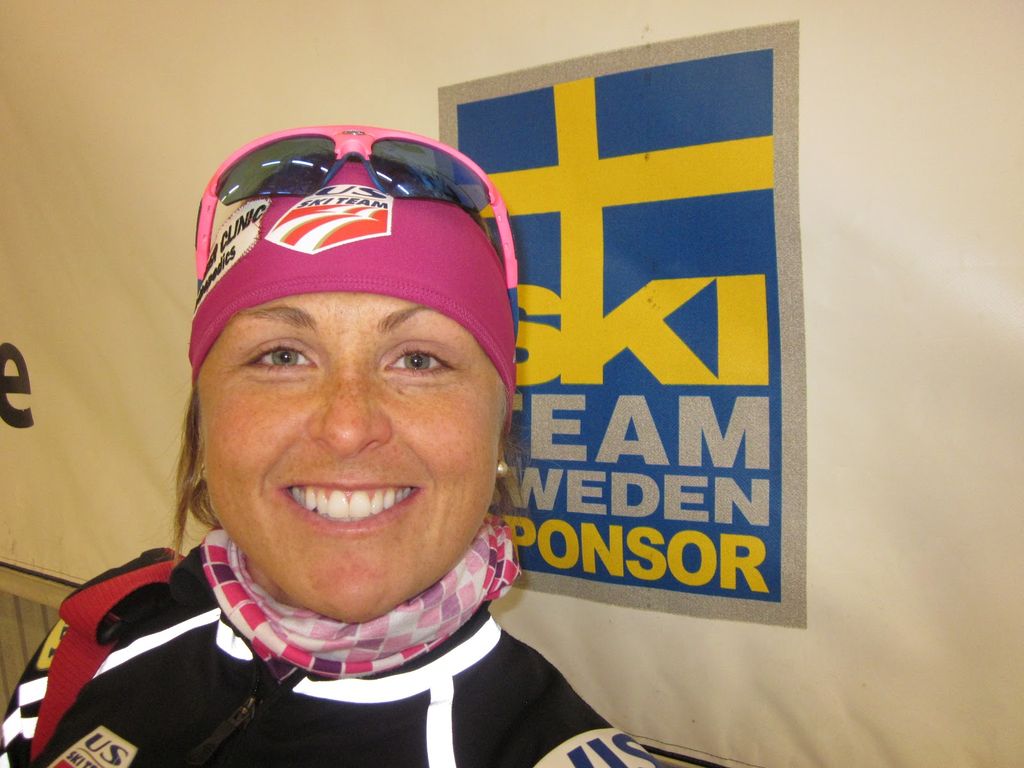 Holly Brooks
Two weeks of brown cheese, tunnel skiing, fish paste, and Scandinavian countryside have come to an end. I think that all parties, Americans, Swedes (and our lone Canadian) alike would agree that our joint training camp was a great success. When I initially heard about the trip I had decided to stay home and save my money for winter competitions. But, when NNF and other donations stepped in to fund the camp I jumped on board and boy, I am sure glad I did!
Our trip had three distinct parts to it. The first was the "North American" acclimatization camp where we got used to the respective time change (10 hours from Alaska!) and tested skis with Salomon techs in the Torsby Tunnel. Next came the dry land portion where we met up with the Swedes and trained in Salen, the start of the Vasaloppet, and finally, a return to Torsby for more tunnel time and a bit of cross training outside of the refrigerated loop.
In Salen my favorite workout was a skate sprint time trial where we skied a prologue, TWO quarterfinals, a semifinal, and a final. After the prologue we were ranked in brackets. With each "race" the fastest skier would move up a bracket and the slowest skier would move down a bracket.  This was a great way to perform some really tough intervals and work on race tactics. We all had a blast despite our comparatively slow skate roller skis!
Once in Torsby, we hit the tunnel hard, skiing four to five hours the first day on the 1.2k loop. Loops took between 5-6 minutes each and we would alternate directions each time, ensuring a wider variety of terrain! That means we averaged between 40-60 loops in the tunnel that day alone!
In addition to tunnel skiing in Torsby we had a great threshold plus 45-minute pace workout on the ski trails. We ran roughly three loops of the 2,5k ski trail which featured some really hard terrain and big hills. Afterwards, we ran down to the lake to jump in and cool off!
Here are a couple of additional thoughts I've had in reflection of my trip thus far:
Gained confidence – we're on the right track
Some of us have already addressed this in blogs but it's worth mentioning again. It was great to see that the Swedish National team girls weren't that different than we are. There is no secret to their training; in fact, it's not that much different than ours. I believe their current success lies in their tradition of success or simply the belief that they KNOW they can succeed, as others in their country have done in the past. In the US we are more or less paving our own road but trips like this add to our belief when we have proof that we can keep up in summer interval sessions, handle more training hours, or do more pull ups J I think that this trip gave each and everyone of us some positive feedback and some additional motivation to finish out the training season strong as we head into the 2012-2013 World Cup season.
Keeping in touch with Euros & building relationships
Seeing that most of us spend five months a year racing World Cups in Europe, it's good to maintain contact WITH Europe and our peers there. It's easy to isolate yourself in a small microcosm American training bubble but it's valuable to see what summer training in Europe consists of. For most of us, this was our first time doing so. We also got to practice traveling, adjusting to the time change, and eating weird foods…. All seemingly meaningless until you try to perform on the World stage continually out of your comfort zone….
The camp provided a great opportunity to become friends with the Swedish girls as we were in a (mostly) non-competitive environment. It's tough to build relationships on the start line at Kuusamo or the dining hall in Russia. Having more friends on the road and WC circuit will make it easier missing holidays with friends and family.

Proud of our team's resilience
I am so proud of our team! We are strong, resilient, and it's amazing what we are able to accomplish, especially considering our shortage of resources compared to our larger budget competitors! On the last day of camp all the North Americans were still standing, ready to train with smiles on our faces. Somehow, one way or another, seemingly half the Swedish team seemed to be out with sickness, injuries or general fatigue despite the fact that they were just hours away from home by car compared to our thousands of miles by plane. For comparison in Torsby they had 12 wax techs, a slew of coaches, video technicians and two "physios" (What Euros call PT/Massage Therapists.) Sure, the camp was in their backyard but there is something to be said for staying healthy……
All said and done, I'm flying home with infused confidence, specific direction for the remainder of my training period, and more International ski experience to my name.
THANK YOU to the National Nordic Foundation and everyone who has donated to it for helping fund this trip!!!!! Happy summer everyone,
Sincerely,
Holly
Ok, shoot. I lied. I can't help but add some other, new pictures to the post (see above). On my way home from Sweden I stopped in Seattle for three days to see my family. It was a rare opportunity and I usually miss every holiday and every birthday. So, we took the opportunity to visit my family's cabin at Snoqualmie Pass where I learned to ski.
It was cool that I was just in Sweden because I am actually part Swedish. Consequently, the trip got me thinking about my Swedish Grandmother, "Farmor" quite a bit. I wanted to make Swedish coffee bread or "Bula" with her…. here are a couple pictures from my visit to Seattle…..

What's next? Five weeks in Alaska, at home! I'm really pumped for a solid block of training & time with my husband, friends, and cat! In October I'll go to Park City for another round of testing at the COE and an altitude block!
Until then!
Cheers & thanks for reading,
Holly