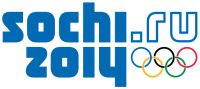 Sochi_2014_-_Logo.svg_1-200x89 copy
September 18, 2012 (Russia) – On 25th September, Russia will approach its latest Olympic milestone: 500 days to go until Sochi 2014 starts, the first Olympic Winter Games in the history of Russia. The Sochi 2014 Organising Committee has prepared a large-scale celebration programme for this important day that will be widely supported across the country, from East to West.
ports and music events will take place in 17 cities across Russia. The culmination of the celebration will be a national flashmob , the main participants of which are Sochi 2014 volunteers from the 26 volunteer centers, representing 14 of the country's regions.
At the squares, stadiums and sports complexes of their cities, more than 12,000 volunteers will participate in the construction of giant puzzles in the form of Olympic pictograms, having collected a total of all 22 stylized images of Olympic sports.