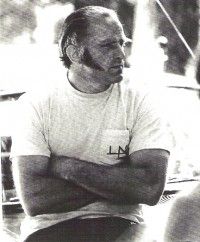 Marty Hall circa 1970s
September 18, 2012 (Lake Placid, NY) – I  make the annual fall trip to Lake Placid to see friends and attend the "THE HILL CLIMB" every year and this falls trip was this past weekend, Sept 15-16. The race itself gets shifted around date wise, but that doesn't mean if you go earlier, like this year, that the weather will be any better.
Saturday turned out to be a brute of a day – cold, misting and also raining with the usual winds associated with a mountain this big. Wind blasts that were so hard they made you stand still at the top. This race course provides the skiers with the hardest roller ski race in North America (with an average of an 8% grade) right from the get-go…2,266 ft of vertical gain – NO FLAT sections – NO REST until you cross the finish line, after 5 miles of grinding!
My friend, Chris Beattie, and I ski walked to about the halfway point as we like to see the race in progress and by that point the race results are pretty much in place, especially in the women's race this year. The race favorite, Liz Stephen, had at least a 2-minute lead at our station and it was very evident that she was flying.
The road was wet, which means the race times should be slower then previous years (2-3 minutes in my mind) but Stephen looked totally in control and was trouncing the field. No stress on her face, breathing under control. I can tell you there are a lot of male skiers that had a new experience as Liz would have been 14th in the men's race and there were quite a few good men who were "girled" – I'm sure it has been a while since it last happened to them.
The outcome, a new course record by Liz. I'm sure that result would not have been on anyone's mind or talked about in any conversation before, during and or after the race.
A thought I've had, is that if this is the Liz Stephen, that'll be stepping on the start line in Europe and performing like she did Saturday, she is going to be one tough cookie to ski with or beat. Her window of expectations will certainly be changing. I'm looking for a stronger, faster more competitive Liz Stephen this winter.
The men's race became a tactical endeavour, with a group of 10-12 skiers when they went by me, with Tad Elliott pulling a sneaky break away and taking home the win.
See full results here.
PS. I saw a lot of back-end skiers, both guys and girls, younger in age, that need to get their strength programs in order. A race this tough certainly demonstrates upper body deficiency as evidenced by the adjustments in technique, that indicate you are a weakling. An easy one to see – but you can still save your season – the weight room is in order ASAP !
Flue Shot Time – I raise this issue every year – in the US it is at any pharmacy and in Canada it is free – just go see your personal doctor. Don't let your season get away from you now by passing up the shot. Don't wait!!!
Stars Start to Flee - The following quote is from an interview with Dario Cologna, the Swiss overall 3-time WC winner, just released by FIS XC.
Q: There are many World Cup competitions next winter. We will visit Canada again and then go for the Olympic test events in Russia. Have you made your plans already?
D.C.: I will start my season in Gällivare and then take part in the Ruka Triple in Kuusamo. I am going to sit out the World Cup competitions in Canada to prepare in the best way for the Tour. After the Tour I will see how my further plans will look like.
Expect to read a lot more of these defections as the fall proceeds. What makes this a likelihood is the scheduling of three races in Kuusamo, Nov. 30 to Dec. 2nd, and then racing five days later in Quebec City on Dec. 7-8. Then you fly even further west to Calgary for the races in Canmore, a 3-race schedule and then back to Europe. Not going to happen for a flock of the top skiers, especially with a 9-hr jet lag west to east staring them in face when returning to Europe.
There will be many countries represented by their B skiers, which makes it all the better for the North American skiers when it comes to collecting WC points and prize money. These Canadian races have the potential to be some of the weakest ever when it comes to an international field.
Talk to you soon.
Marty Hall
Misterxc@aol.com