September 28, 2012 (Vancouver, BC) – John Furlong, the head of the Vancouver Organizing Committee for the 2010 Olympic and Paralympic Winter Games (VANOC) is trying to hide a sordid past reports The Georgia Straight. The revelations, first brought to light by reporter Laura Robinson, are also casting serious doubts about background checks done by VANOC and by the City of Vancouver.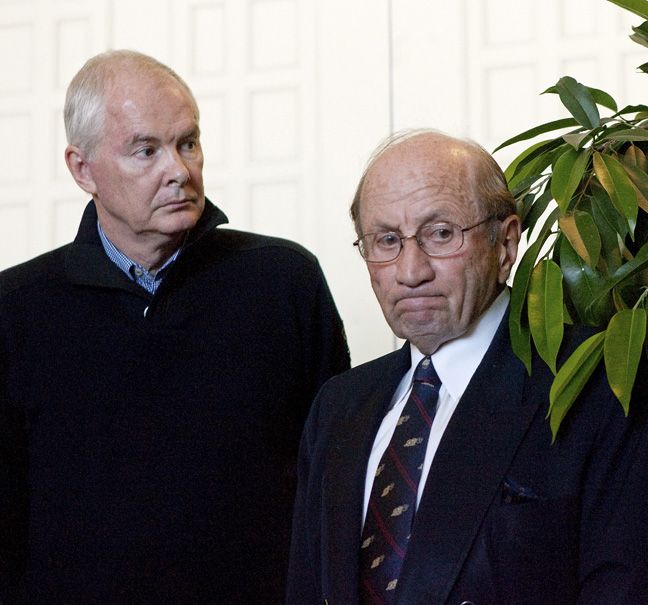 Former VANOC CEO John Furlong (l) with his lawyer, Marvin Storrow, denies physical abuse allegations in Georgia Straight article © Heinz Ruckemann
The Straight article – at 4,000 words – goes into great detail about how Furlong, now 61, had already lived in Canada from 1969 to 1974 prior to "immigrating" to this country. Despite no formal training in teaching, Furlong taught First Nations children at the Immaculata Elementary School in Burns Lake, B.C. (later called O'Grady Catholic High School). Eight former students of Furlong's have signed affidavits for the Georgia Straight alleging that he caused them physical and mental abuse during this time.
None of this history is included in either John Furlong's official Olympic CV nor in a book he authored, Patriot Hearts. According to the "official version," Furlong arrived in Canada from Ireland in the fall of 1974. There is no mention of him arriving in 1969, as an Oblate Frontier Apostle missionary. According to The Straight, Furlong married Margaret Cook, another Frontier Apostle teacher, in 1970 and their two children were born in Canada, not Ireland. Regardless of the serious complaints of abuse, this raises other serious questions about the procedure for background checks of candidates for important positions.
Rusty Goepel chaired VANOC's hiring committee when Furlong was brought on board, but admits not remembering if he saw Furlong's CV. The City of Vancouver also played a role in Furlong's hiring but Mayor Gregor Robertson's office has not responded to The Straight on its role in VANOC and whether it practised due diligence in terms of hiring.
Furlong addressed the media Thursday. "As you are aware I have been accused of physical abuse and apparently within the last hour, sexual abuse. I want you to know I categorically deny absolutely any wrongdoing and I believe that the RCMP looking into this matter will discredit the complaint entirely because it did not happen."
He did acknowledge spending "a brief and uneventful time" in Burns Lake, BC before coming to Canada as a landed immigrant in 1974. Furlong calls the allegations, "serious and unfounded." He also claims that when he first heard of these allegations, he was led to believe that the matter would "disappear" if he paid some money. Furlong maintains to have contacted the police about this matter.
He also claims that The Georgia Straight did not contact him to validate any of the details prior to publication of the article. Furlong's lawyer indicated that his client has no choice but to seek full and complete recourse before the courts.
Among Furlong's accolades, the Globe and Mail named him Canadian of the year in 2010; he is a recipient of the Order of B.C., the Order of Canada, the Olympic Order, and the Paralympic Order. He is chairman of Own the Podium, and is on the Whistler Blackcomb Holdings Inc. board. This spring, he became the "executive chair" of the Vancouver Whitecaps. He has received honorary degrees from two BC universities (UBC and UNBC) and a technical school (BCIT), from the University of Calgary, and the B.C. Justice Institute.
Read the Georgia Straight story HERE.