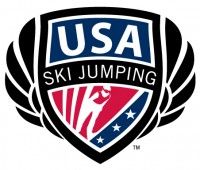 October 06, 2012 (Lake Placid, NY) – Against the backdrop of near peak Autumn colors the annual Flaming Leaves ski jumping tournament is set to kick off on Saturday, Oct. 6 at 12 noon at the Olympic Ski Jumping Complex here in this two-time Olympic village to be followed by Sunday's annual NYSEF ski jumping competition.
It's a big weekend of ski jumping action and the town of Lake Placid is filled with tourists to view the colorful leaves and share in the crisp fall weather. There is a slight chance of rain during part of Saturday morning's event.
We caught up with USA Coaches Clint Jones and Casey Colby to get their thoughts prior to the tournament. Jones, who arrived in town at 1 am this morning was a little weary today – his birthday – from the rigors of the return trip from the last FIS Summer Grand Prix at Klingenthal, Germany. Jones told us, "The trip was a long one and all three of us (Pete Frenette and Anders Johnson) are pretty tired. It took about 30 straight hours of traveling to get here. But we are ok and ready to go. I know what Pete and Anders have been doing ski jumping wise, but I haven't seen alot of the other jumpers since US Nationals in Park City, and I anxious to see how these guys, just returned from Europe will do against the rest of the field. They should be dominant but we'll see."
Two weeks previous Casey Colby – a Lake Placid native – also returned with the Continental Cup squad, and he's excited how some of those athletes will fare in the head to head event. "I think probably Mike Glasder and Brian Wallace have the best shot at Pete and Anders," Colby said at the hill, "Mike won both day's last weekend in Chicago, and he's jumping pretty well. The thing I'm watching is his back and neck. He's had some long-time back injuries, and hurt his neck last weekend at Norge, if he can be good and limber for Saturday's comp he can challenge for sure. I am also very impressed by the progress Brian Wallace has made, he's gaining in confidence and getting better each week. It will be fun to see what happens."
Not competing Saturday for USA Ski Jumping will be Nick Alexander, who is still in Europe and the injured Nick Fairall, who has been rehabbing at the Alpine Clinic in Franconia, NH. "I am making progress, but the injury was pretty bad (from a waterskiing fall)," the Andover, NH skier commented.
"At first I thought it was a normal sprain, but it wasn't and for several weeks I couldn't do any weight-bearing on my foot….in some ways it might have been easier if I actually broken my ankle. Dr. Chen (USASJ Team Doctor) thought I was right on the edge of surgery, but I really wanted to keep my range of motion, but I must say the timing wasn't that great. I keep joking with Jessica (USASJ Team PT) that I brought my skis and jump suit to Lake Placid, but the truth is, I'm not ready. Perhaps sometime in December," added Fairall, whose goal is a berth on the USA 2014 US Olympic Team to Sochi.
Following the weekend in Lake Placid, the USASJ jumpers will train at home and then reassemble in Park City in early November.
For more info follow us at USA Ski Jumping and on YouTube and facebook.