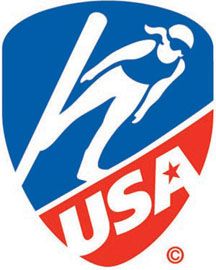 October 12, 2012   – Women's Ski Jumping USA has named the athletes to represent the Visa Women's Ski Jumping Team this year on the World and Continental Cup circuits.
2013 Visa Women's Ski Jumping Team
Women's Ski Jumping USA
Team A
- Sarah Hendrickson, Park City, UT
- Jessica Jerome, Park City, UT
- Lindsey Van, Park City, UT
Team C
- Abby Hughes, Park City, UT
- Alissa Johnson, Park City, UT
- Nina Lussi, Lake Placid, NY (invitee)
- Development Team
- Emilee Anderson, Eau Claire, WI
- Elyse Hoffmann, Madison, WI
- Elizabeth Wallace, Woodbury, MN
The U.S. women are going into the 2012-13 winter World Cup season as the No. 1 ranked team in the world after dominating the competitions last year. Hendrickson, 18, who is set to graduate in November from the Winter Sports School in Park City, led the team last season by winning nine of 13 World Cup events and becoming the individual World Cup overall champion. Van finished the season fifth overall and Jerome was ninth.
"It's obviously a lot of pressure to go into a World Champs season with the globe from last year, but that's what makes it exciting," Hendrickson said. "Going into it I have to use that energy to my advantage and work toward my special goals. I am hoping for another fun winter to come and hoping the results will be there as well."
Women's ski jumping made its debut on the International Ski Federation World Cup circuit last winter, which meant better ski jumping venues and more international support and broadcast time for the events.
This year is significant for two reasons: one of the World Cup stops is in Sochi, Russia, site of the 2014 Olympic Winter Games where women will be allowed to compete in ski jumping for the first time; and the 2013 World Ski Jumping Championships will be in Val di Fiemme, Italy.
Top team members spent much of the summer working to resolve nagging joint issues. Hendrickson, Van and Jerome underwent knee surgeries and Johnson had shoulder surgery. Alan Alborn, Head Program and Development Coach, said those issues seemed to hold the athletes back from their true potential last season.
"We are on track to having 99 percent of the team healthy and confident in their bodies going into the season," Alborn said. "The summer has been very important for us to hold the reigns back on the team and make sure to the best of our ability everyone is healthy and ready."
Team members recently spent two weeks training at Val di Fiemme, Italy. They got a good chance to work intensely on the hill in which they will jump in the 2013 World Championships.
There will be 16 competitions on the women's World Cup winter circuit, including stops in Norway, Austria, Russia, Germany, Japan and Slovenia. The WC opener is Nov. 24 in Lillehammer, NOR and the season ends March 17, 2013, in Oslo, NOR. The Nordic Junior World Ski Championships are Jan. 20-27 in Liberec, Czech Republic and the Nordic World Ski Championships are Feb. 20-March 3.
Head World Cup Coach Paolo Bernardi is looking forward to another season and knows other teams already have the U.S. women in their viewfinder.
"I feel pretty good in this position, knowing the power of our athletes and what they are capable of," said Bernardi. "I prefer to be hunted from the other team than trying to catch them."
Also this year, in addition to the primary support and infrastructure provided by WSJ-USA, Jerome, Van and Hendrickson have met U.S. Ski Team criteria to receive some access and assistance to elite athlete resources offered through the U.S. Ski and Snowboard Association.
Women's Ski Jumping USA is the primary support group for the VISA Women's Ski Jumping Team and aims to foster development level athletes throughout the U.S. WSJ-USA, a 501c3 foundation, also advocates for equality for women and girls in sports.