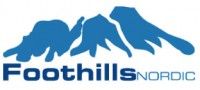 October 30, 2012 (Calgary, AB) – Foothills Nordic Ski Club in Calgary, AB is looking for qualified part-time coaches to help support our full-time coaches and volunteers in the delivery of some of our cross-country skiing programs. We require part-time coaches for the following programs:
Masters Training Group
The Masters Training Group (MTG) is a training program for adults who desire a year round (11 month) cross-country ski training program.  The program runs from May to March every year.  For May, the program starts with lower intensity dry-land training (hiking, ski-walking, running) with one coached session every Wednesday evening in Calgary and another on the weekend, typically in the mountains.
June through November dry-land training includes 1-1/2 hour workouts within Calgary on Monday, Wednesday and Thursday.  Workouts include strength training, roller skiing and hill striding intensity.  Saturday or Sunday is typically a 3 hour long, slow distance workout somewhere in the mountains.
Winter on-snow training includes 1-1/2 hour workouts within Calgary on Monday and Thursday, focussed on ski technique.  Saturday or Sunday is typically a 3 hour, long, slow ski workout somewhere in the mountains.
Athletes receive technique instruction for both skating and classic skiing and receive an annual plan as well as more detailed plans for 4-week blocks to manage their training.
Coaching support is provided for an early snow camp at Silver Star (Vernon) from November 23 to December 1 and at both the Birkie and the Nipika loppet.
We are looking for a part-time coach or coaches that can commit to the remainder of the season and/or can provide occasional help.
Foothills Adult Ski Technique (FAST)
Foothills Adult Ski Technique (F.A.S.T.) is an adult learn to ski and ski skill improvement program scheduled to coincide with our Jackrabbit and Track Attack programs, allowing parents to ski at the same time as their kids (non-parent adults are also welcome).
The focus of the program is on ski improvment, either as "learn-to-ski" or more advanced technique improvement.  Coaches organize a workout and provide technique coaching.  Participants learn some new drills to help improve their skiing, working on both classic and skate technique.  This program starts when Canada Olympic Park opens for skiing in the winter (usually mid December).
The 1-1/2 hour program is offered on Tuesday and Thursday nights, starting at 6:30.
2 coaches are required per night:  one to work with the 'learn to ski' group and one to work with the 'skill improvement' group.  Coaches can work 1 night per week, or both.
Ski at School Program
Location:  Various schools within Calgary
Ages:  Grades 1 to 4
Dates:  Between January and the first week of March, we try to deliver a 1 week long program to between 5 and 7 schools.
Time:  Depending on the school, we may offer anywhere from a 3 day, morning only program up to a 5 day, morning and afternoon program.
Ideally, we would like to have one lead coach who could commit to most of the program.  Assistant coaches are also required.
Parents, young adults, current and former racers can all make great coaches!  If you or anyone you know is interested in all, one or part of one of these paid part-time positions, please contact the Cross-Country Program Director at foothillsxc@gmail.com with any questions.