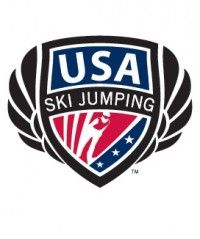 USASJ
October 31, 2012 (Park City, UT) – U.S.A. ski jumping National Team member Mike Glasder (Cary, IL) has suffered a work-related injury, which will put the well-known jumper on the USASJ injuried list for an unknown period of time. Glasder, who recently came off from the annual Flaming Leaves event in Lake Placid with a strong third place and has enjoyed a strong summer of good results, was injured, when in his own words… "I was towing things back to a burn pile at work with a quad and the front tire hit some softer dirt which stopped the quad and sent me flying." Glasder told the USASJ News Bureau he suffered a broken collarbone, which is now in four pieces.
Today Glasder told us of his current medical plans… "I had the options of surgery and letting my collarbone heal on it's own, and after talking with Dr. Andy Chen (Alpine Clinic) and my doctor at home, I've decided to get a plate surgically installed so that my recovery time will be twice as fast. My doctor that will be performing the surgery said that the recovery should take about six weeks, but in my own mind I only see it taking about four weeks before I will get back on snow."
The well-known Glasder, who has his eye on an Olympic berth for Sochi 2014 said that he is forward looking and expects things to go well. "I figure a little bit after Thanksgiving I will be able to put my skis on and get some good training in. I'm not the least bit worried about losing a step because jumping was going pretty well this Fall and I had some good training jumps at Norge before my injury as well as having really good ideas and mental images in my head at the moment."
You've got to admired his comeback thoughts when he added…"This is just a small delay in my training and having to take a short break now will definitely make me even more excited about the coming Winter season." Glasder is expected to be operated on Wednesday.
Also on the USASJ rehab list is Andover, NH jumper Nick Fairall, who continues to receive treatment at the Alpine Clinic in Franconia, NH, an official sponsor of the USASJ.