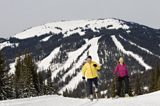 Sun Peaks Resort nordic skiing
November 01, 2012 (Sun Peaks Resort, B.C.) – Cross Country Skiing is the fastest growing segment of business at Sun Peaks Resort, evidenced by an increase in season pass sales, a sold-out nordic camp, a new nordic centre, and a growing nordic club.
"Our Nordic season pass sales are up by 32 per cent so far this winter," says Phil Youwe, Sun Peaks Resort's Nordic Coordinator. "And the newly created Sun Peaks Nordic Club is now over 100 members strong with plans for a new Jackrabbit program in January."
One of four new, early season Nordic Camps (December 8 – 9) has sold out which reflects the growing interest in the sport at Sun Peaks. Guests can join a waitlist as more coaches may be added. Call 250-578-5505 or email nordic@sunpeaksresort.com. A second Sun Peaks Nordic Camp will run on January 19 – 20.
Glenn Bond, an internationally recognized Nordic skier is also hosting two Nordic camps at Sun Peaks Resort this winter (November 26 – 30 and December 1- 2). Go to www.GlennBond.com for more information and to register.
This winter, the new Sun Peaks Nordic Centre will become the focal point for all cross country skiing at Sun Peaks. Located between Parking Lot 5 and the Umbrella Cafe, the building will sell Nordic trail tickets, have a rental and retail space and act as a hub for skiers to warm up, socialize and find information about the trails. The new structure will be headquarters for the popular Nordic Host program and be utilized by the Sun Peaks Nordic Club.
The Centre will be open seven days a week from 8:30am to 4:30pm starting on November 17 with the rental and retail sections opening on December 15 for weekends and extended hours during holidays. The grand opening will take place on December 22.
"This new Nordic Centre was established in response to the surge in Nordic popularity we have seen at Sun Peaks in the last few years," says Youwe. "We are excited to see it put to good use this winter, starting on November 17."
Guests can also take part in a Full Moon Nordic Ski every month. Sun Peaks will be hosting The 4th Annual Sun Peaks Kookaburra Cup Nordic Loppet (January 6) as well as Cross Country BC's newest race, The Annual Holy Cow Nordic Loppet (February 24).
Home to over 30kms of groomed and trackset trails, including one of the region's only lift accessed Nordic trails, Sun Peaks has continued to evolve into a favourite Nordic skiing destination. The extensive trail network also features an additional 12kms of backcountry trails and the popular McGillivray Lake Outpost.
For more info, visit www.sunpeaksresort.com
Nordic Events
- November 26 – 30 – Glenn Bond Monday to Friday Nordic Ski Camp
- December 1 & 2 – Glenn Bond Weekend Nordic Ski Camp
- December 8 & 9 – Sun Peaks Nordic Ski Camp
- December 28 – Full Moon Nordic Ski
- January 6 – 4th Annual Sun Peaks Kookaburra Cup Nordic Loppet
- January 19 & 20 – Sun Peaks Nordic Ski Camp
- January 26 – Full Moon Nordic Ski
- February 24 – Holy Cow Nordic Loppet
- February 25 – Full Moon Nordic Ski
- March 26 – Full Moon Nordic Ski