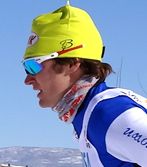 February 03, 2013 (Sun Valley, ID) – Sylvan Ellefson (Vail Ski and Snowboard Club) edged out Mark Iverson (APU) taking his second win at the fabled 32km Boulder Mountain Tour (BMT), one of America's longest running and most respected cross-country ski races.
Ellefson nipped Iverson at the line by a mere half a second as five skiers were in a bunch sprint with only a second between them at the finish. Peter Kling took the last podium spot with Mike Sinnott (SVSEF) in fourth and US Biathlon's Jeremy Teela in 5th.
APU's Lauren Fritz topped the women's field besting Corinne Malcolm by an even smaller margin 0.114s with Ketchum's Brooke Hovey an equally close third another 0.383 seconds back.
Full results HERE.