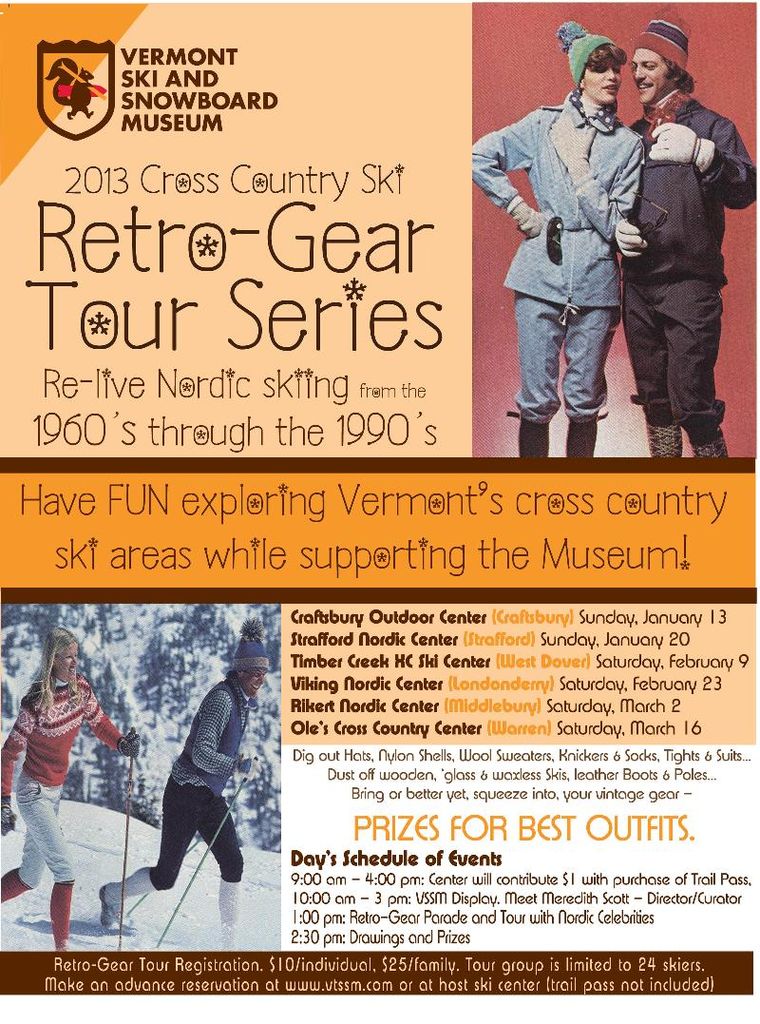 February 07, 2013 (Wilmington, VT) – Snow is in the forecast – come join us for stop 3 of the Retro-Gear Tour Series on February 9th at Timber Creek in Wilmington.
Kelly Kahler, a long time cross country ski area manager, has put together a panel of cross country skiing experts. Come skiing (in new snow!) and join us for a lunchtime chat with Armand Roy, Rudy Veraguth, and John Tidd. As ski area developers, instructors, and skiers, they can offer insight into how the industry and sport have developed in Vermont.
At Timber Creek, the skier has a choice of adventures on a trail system that meanders and explores forested hills and reaches views of the high mountain ridges. The trails coincide, at times, along the way allowing the skier to create fun, mysterious loops that offer varying skiing experiences. Discover a wonderful winter world in the Vermont mountains through the trails of Timber Creek Cross Country Ski Area!
Mark your February calendars for: Hall of Fame Inductee Bucky Broomhall at Viking Nordic Center on February 23.
Read more about the Retro-Gear Ski Tour HERE!
2013 Retro-Gear Tour Series Calendar
– Craftsbury Outdoor Center (Craftsbury) – Sunday, January 13
– Strafford Nordic Center (Strafford) – Sunday, January 20
– Timber Creek Cross Country Center (West Dover) – Saturday, February 9
– Viking Nordic Center (Londonderry) – Saturday, February 23
– Rikert Nordic Center (Middlebury) – Saturday, March 2
– Ole's Cross Country Center (Warren) – Saturday, March 16
Watch a video of our first tour at Craftsbury Outdoor Center. Click HERE for photos of Craftsbury and Strafford.
Click HERE for Meredith Scott talking about the Retro-Gear Ski Tour on WCAX .
For more information, visit the Museum web site www.vtssm.com or call Meredith Scott, Director/Curator at 802.253.9911 x 202.