February 07, 2013 (Nove Mesto, Cze) – With the near perfect conditions of light wind, sub-zero degree temperatures, and fast tracks, the 2013 IBU World Championships opened with the 2x6km+2×7.5km Mixed Relays in Nove Mesto, Czech Republic. Norway won the gold medal with a time of 1:12:04.9, using four spare rounds while 2nd place went to Team France at 20 seconds behind with eight spare rounds. The home team Czech Republic claimed the bronze at 33.3 seconds back with five spare rounds in front of the sold-out home crowd of 22,000.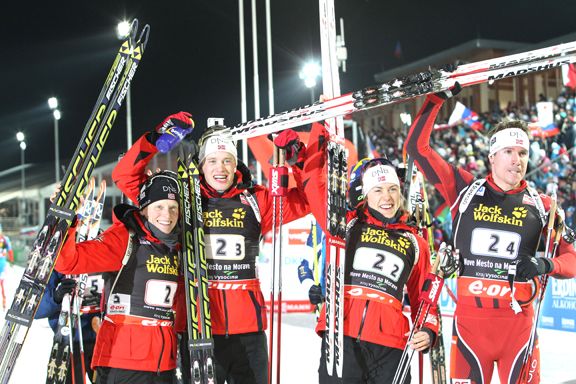 Team USA's mixed relay squad made up of Annelies Cook, Susan Dunklee, Lowell Bailey, and Leif Nordgren had a strong performance, placing 8th in an exciting photo finish with Slovakia and posting a time of 1:13:37.7 (0+7). Today's finish marked the best-ever mixed relay performance for Team USA at a World Championship.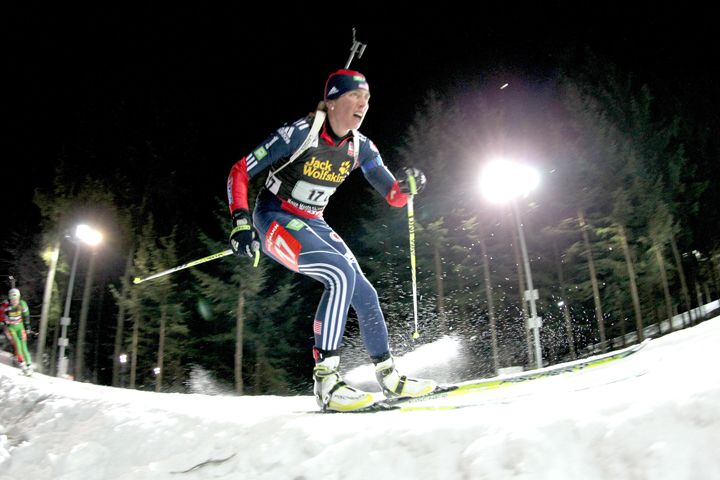 "I am psyched with how well we did as a team," said Dunklee in a team release. "We were only seconds out of the flower ceremony and everybody had a strong leg. Both the skiing and the shooting came together for me today and I had my best race of the year. I had fast skis and was able to ski with Miri (Gossner of Germany) and Daria (Domracheve Belarus). The Czech atmosphere is wonderful. I was surprised by how many thousands of positive and energetic fans were in the stands. It was even louder than Ruhpolding."
Nordgren echoed Dunklee's opinion of the crowd.  "It was an awesome atmosphere in Nove Mesto today.  The crowd was really amazing, hats off to the organizers for getting so many people here," said Nordgren.  "As far as the race went, it was a pretty good one for me.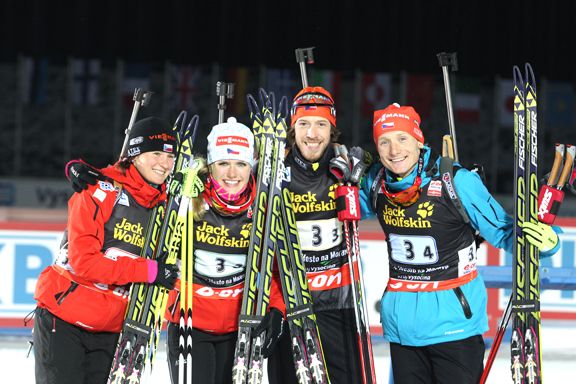 "I've been struggling with some stomach issues for the last few days, so I wasn't really sure what to expect.  I ended up dying a little bit the last loop, but I managed to stay with Slovakia when he passed me. My feet just aren't big enough, so I lost the photo finish, but I was still happy. I think I'm in good shape for the coming races, and today was an excellent warm-up!"
"That was exactly the start we wanted with really strong skiing and very good shooting," said Bernd Eisenbichler, US Biathlon's high performance director. " We were there in the race with the top teams from the beginning and it was a really strong performance from all our athletes. That was the right start for World Championships and gives a confidence boost to the whole team."
The Canadian Mixed Relay Team, composed of JP Le Guellec, Scott Perras, Rosanna Crawford and Megan Heinicke finished mid pack in 15th position with a time of 1:15:09.6 using 9 spare rounds.
"It was a decent start but nothing extraordinary today," commented Le Guellec in a Biathlon Canada release.  This season, Le Guellec became the first Canadian male to win an IBU World Cup gold medal in biathlon in Sweden. "Personally the race went well. I was able to stay composed and relaxed in skiing, and used two spares in standing. It was a great opportunity to shape things up for the sprint."
It was the first mixed relay at World Championships for the 29-year-old Scott Perras.  "This was a full out field and was great to be a part of it," said Perras. "Our start today shows we are in the ball park." Competition continues from the 2013 World Championships on Saturday with the men and women's sprint events.
Full results HERE.