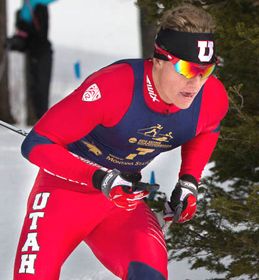 February 09, 2013 (Midway, Utah) – The University of Colorado turned a 36-point deficit into a 28-point advantage with the running of the 5K women's and 10K men's classical races at Soldier Hollow on Friday, Feb. 8. Host Utah made the biggest move of the day, remaining in third place, but shaving 67 points of Denver's lead and 10 points off the Buffs lead. The round-robin results saw the meet with its third team in the lead in three days of action.
Colorado didn't win either race, finishing second in the men's race and third in the women's, but finished the day in the lead with 662 points. Denver, which had just two skiers finish the men's race, is second with 633 points while Utah is 624. Utah then has a 103 point advantage over fourth place New Mexico (521) while Montana State (486) and Alaska Anchorage (441) round out the teams in action Friday. Associate members Westminster (190) and Colorado Mountain College (40) remain in seventh and eighth as they do not compete in Nordic races.
Utah's Miles Havlick won his third straight race and fourth of the season, winning with relative ease in a time of 25:19.2, 26.1 seconds ahead of second place Gustav Nordstroem of Colorado (25:45.3) while teammate Einar Ulsund took third just behind Nordstroem (25:46.1). Colorado's Rune Oedegaard finished fourth in 25:58.7 while Alaska Anchorage's Lukas Ebner rounded out the top five in a time of 26:01.9.
Utah won the race, racking up 123 points, edging the Buffs (118) while Alaska Anchorage finished third with 102 points.
The Seawolves won the women's race with 112 points as four teams hit triple digits. Utah was second with 109 points, Colorado third with 104 and Denver fourth with 101.
Colorado's Joanne Reid won her fifth straight race and she has won six out of the seven races on the season. In one of the closer races of the season, she edged out Marine Dusser from Alaska Anchorage by just 2.5 seconds, 14:49.8 to 14:52.3. In fact, the top 12 skiers were all within 30 seconds and top 20 within a minute of Reid's time. Utah's Rose Kemp was third in 15:00.5 while the Seawolves' Patricia Sprecher was fourth in 15:02.5. Denver's Makayla Cappel took fifth in a time of 15:03.6, two tenths ahead of the Utes Sloan Storey (15:03.8).
The Utah Invitational concludes Sunday with the 15K women's and 20K men's freestyle races. The race should be made more interesting with a storm front moving in overnight.
The alpine teams, meanwhile, will return to action this weekend with slalom races both Saturday and Sunday to close out the New Mexico Invitational at Red River, N.M. The regular season will then be complete.
Full results HERE.