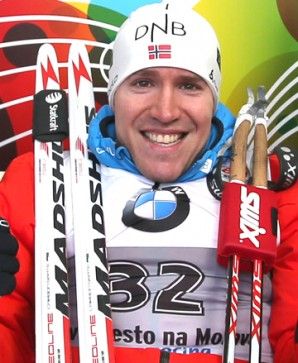 February 09, 2013 ( Nove Mesto, CZE) – Great conditions on day 2 at the 2013 IBU World Championships favoured Norway's Emil Hegle Svendsen who won gold in the men's 10km Sprint relegating the defending champ, Martin Fourcade (FRA), to second. The fast-skiing Norwegian won by 8.1 seconds as both he and Fourcade suffered one penalty in the standing stage but Svendsen was unstoppable.
Slovenia's Jakov Fak landed third on the podium with clean shooting at 11.2s behind the winner besting as legendary Ole Einar Bjørndalen (NOR) who was challenging, but had a penalty in the standing stage that cost him the medal as Fak could not be reeled in.
American Tim Burke, who suffered three penalties, lead the North Americans tied in 28th with Germany's Simon Schempp at 1:36.2 behind.
"Today was definitely not the sprint that I was looking for," said Burke in a team release. "Two penalties is simply not good enough in a field of this quality. I felt decent on the skis today and there is still plenty of racing left, so I am still hopeful for a top result here. The biggest surprise for me today was big the crowd. I had not realized how popular biathlon is in Czech. It was a lot fun to compete in front of such an energetic crowd."
Burke's teammate Lowell Bailey was close behind in 32nd at 1:37.7 with one penalty. It was not the result that the Lake Placid, NY biathlete was hoping for. "I'm definitely disappointed with the result today. There's no other way to describe it," said Bailey. "I felt good skiing and shot well compared to the rest of the field. Unfortunately, my ski speed was not where I expected it to be. The only thing now is to let it go, look forward and focus on tomorrow. Tomorrow's pursuit race is still very tight and anything can happen. I'm just going to take a few hours to relax this evening and then wake up tomorrow, ready to go!"
The top Canuck was JP Le Guellec in 36th also missing three targets at 1:44.8 behind. The USA's Russell Currier was 44th (2+0), Canada's Scott Gow was 45th (0+1), the USA's Leif Nordgren finished 53rd (1+0), Scott Perras (CAN) was 66th (2+1) and fellow Canuck Nathan Smith was 73rd (1+1).
"I had a goal on the tracks and on the shooting range today and I did that," Svendsen told Biathlonworld.com. "My goal was to be on the podium more during these championships and I have reached that. Now I am going to have fun for the rest of the week. Still I could imagine six gold medals," he admitted with a laugh.
Full Results HERE.