February 09, 2013 (Lenzerheide, SUI) – The US XC Ski team grabbed some stellar international headlines at a FIS race in Lenzerheide, SUI on Saturday as Liz Stephen lead a US sweep of the women's 5km FR race – a first ever – with Jessie Diggins in second and Holly Brooks in third. Seraina Boner of FIS Marathon Cup fame was the top Swiss skier in 4th with Vermont's Ida Sargent grabbing 7th. This was Stephen's first individual FIS victory and Brooks and Diggins' first FIS non-WCup individual podium as well.
Team leader Kikkan Randall decided to stay in Davos and continue training while recovering from her sickness in Sochi. "Finally just got healthy from the bronchitis I had in Sochi and wanted to play it safe this week. Just doing some intervals instead.  Thanks for your concern," she wrote Trax by email.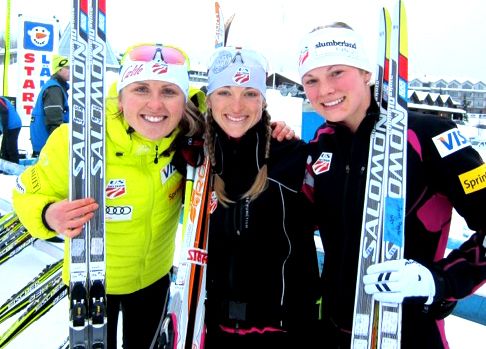 In the men's 15km FR contest rising US star Noah Hoffman scored his first FIS senior podium (as a U23 he won a very small 10kmCL race in Switzerland in 2010, was 3rd in 2011 in a 10km CL and 2nd at the U23 Worlds in the 15km CL) claiming second to none-other-than Swiss superstar, Dario Cologna, with Remo Fischer in 3rd. Tad Elliott was a stellar 5th followed by Eric Bjornsen in 6th with Torin Koos 19th as the US team ramps up for  the biggest race on this year's calendar – the 2013 FIS Nordic World Championships in Val di Fiemme are less than 2 weeks away.
Both fields were strong showing the depth and good form of the Team USA skiers before the big show…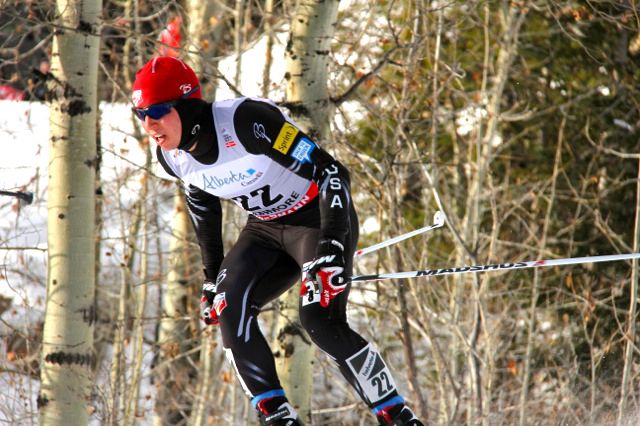 Women's results HERE.
Men's results HERE.