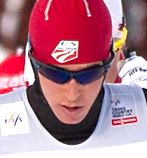 February 10, 2013 (Lenzerheide, SUI) – Noah "the Hoff" Hoffman is on the move as he claimed his first senior FIS international podium on Sunday winning the 15km CL pursuit-style race in Lenzerheide, Switzerland with teammate Eric Bjornsen also turning heads as he claimed third for a double US podium.
It was Hoffman's second podium in as many days as he was second behind Swiss superstar, Dario Cologna, in the men's 15km FR on Friday – read more here – and was the lead-off skier in Sunday's pursuit race as Cologna did not start.
"Several years ago I did an OPA Cup trip here and raced in a Swiss Cup race which I won, so both of my two wins in Europe have been in Switzerland – this is the biggest victory of my career so far as a senior," Hoffman told Trax in phone interview earlier today. The Hoff won a very small U23 15km FR mass start race in Switzerland in 2010 (only 13 skiers) with Canada's Len Valjas coming second. He was 3rd in 2011 in a 10km CL and won silver at the U23 Worlds in the 15km CL in Erzurum, Turkey in 2012.
"It was quite cold this morning but it was a beautiful day and the sun warmed things up. Dario didn't start today preparing for the Worlds so I started today with a 29-second advantage over Tony Livers. I was alone the whole time skiing a time trial race and was glad to have the fastest time," the Hoff continued.
Bjornsen, who won his first National title in the men's 15km FR at the 2013 U.S. XC Ski Championships in Soldier Hollow, followed up his strong 6th place yesterday with his second FIS international podium finish on Sunday sharing the glory with his teammate Hoffman. Bjornsen also took home the silver in the men's 1.3km FR sprint at Nationals.
"Yes, it was a great day! It was my second FIS podium in Switzerland, I had one last year in Fuertersoy placing 2nd. This was my first podium at a National Championships outside the U.S though. It was definitely in the top-three best efforts of the year for me," said Bjornsen by email.
"I got really sick a couple weeks ago with the flu and had to skip Sochi. I got back into training this week and yesterday I was nervous going into the 15km skate and was happy with the result. Since I was feeling so good I decided to try going out hard today… it was a great day and probably my best classic race of the year," added Bjornsen.
The Lenzerheide course will be a stop on the TdS next year so this was an opportunity to preview the course and get in some good race training before the upcoming Worlds in Italy. The US men lead by Hoffman are building on their confidence and hoping for continued solid results at Fiemme 2013.
"The course here in Lenzerheide was a lot of fun and we're going to be back here next year at the Tour de Ski so this was a good opportunity to get a preview of those courses… and of course we hope to build on these results coming into Worlds," added Hoffman – full interview coming soon and more from Bjornsen as well.

Full results HERE.