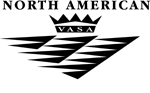 February 13, 2013 (Traverse City, Michigan) – Eli Brown, 40, from Williamsburg, MI took the win in Saturday's Vasa 50km freestyle race while Angela Palomaki (Autrain, MI) was the top women finishing 28th overall. In the signature 50km CL on Sunday Canada's Allan Magi from Dundas, ON was the clear winner with a 10-second margin while White Bear Lake's Kathy Sanville in 12th lead the women's field.
A total of 750 converged at Traverse City for the 2013 North American Vasa's weekend events as snow conditions were the best in many years with good tracks as well according to organizer Pete LaPlaca.
The temp out on the course at 7 am was minus 15 F, but the sun came out and it turned out to be a spectacular day both Sat and Sunday.  "We really lucked out as we received a freezing rain later in the afternoon," added LaPlaca.
Read more HERE.
Results (brief)
50km FR
Men
1. Eli Brown (Williamsburg, MI) 2:26:03
2. Alex Vanias (Leroy, MI) 2:29:20
3. Steve Kuhl (Marquette, MI) 2:30:41
Women
28. Angela Palomaki (Autrain, MI) 2:54:14
42. Kaitlyn Patterson (Cadillac, MI) 3:13:25
46. Lindsey MacDonald (Ann Arbor, MI) 3:17:30
50km CL
Men
1. Allan Magi (Dundas, ON) 3:09:06
2. Randy Smith (Williamsburg, MI) 3:19:59
3. Sean Newmister (Madison, WI) 3:30:12
Women
12. Kathy Sanville (White Bear Lake, MN) 4:14:20
13. Tasha Kettula (East Lansing, MI) 4:28:18
14. Molly Baker (Harbor Springs, MI) 4:29:35
Full results HERE.