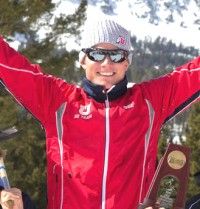 February 14, 2013 (Salt Lake City, Utah) – University of Utah senior Miles Havlick was named the Rocky Mountain Intercollegiate Ski Association Men's Nordic MVP Thursday, announced by the league.  The honor is based on the total accumulation of NCAA Qualification points in the four regular season meets, counting both classical and freestyle races.
Havlick also won the honor last year, and becomes the second straight men's Nordic skier to repeat as MVP, joining New Mexico's Martin Kaas, who accomplished the feat in 2010 and '11.
Havlick actually had a solid chance to win MVP honors as a sophomore in 2010 but missed two races in the middle of the season.  If his results had projected out in those two races, he would've also won MVP that season.
"Being named MVP during my senior season is a huge honor especially in an RMISA field as competitive as this one," Havlick said. "This award really belongs to all my teammates as well. We have been feeding off each other's successes all season and it's very motivating to go 1-2 in the MVP ranking with my fellow Ute Einar Ulsund. I want to thank all the Utah supporters and my coaches for all their work, which has allowed us all to ski to our greatest abilities every weekend. I'm looking forward to carrying our team success into Regionals and the NCAA Championships."
Havlick scored 388 points out of a possible 400 and earned the MVP honor on the strength of winning the last four races of the season, sweeping both the New Mexico and Utah Invitationals.  He won by just three points over Ulsund and nine points over Colorado's Rune Oedegaard.  At the midpoint of the season, he was 10 points down to Oedegaard and five points behind Ulsund.
Ulsund didn't make things easy on Havlick, as Ulsund had a 1-point lead for the MVP headed into the Utes home meet, the final meet of the season.  Havlick won both races and Ulsud took third for the final three-point  difference.
"I am ecstatic for Miles to receive this award and recognition," Utah Director of Skiing Kevin Sweeney said. "I think what it really came down to this year was Miles just trying to do his best for the team at every single race. We have several new skiers on the team and Miles just provided excellent leadership and camaraderie on and off the race course. As a role model this meant training well, resting when tired and knowing how to put on the game face on race days."
"I could not be happier, or more proud, for Miles," added Utah Nordic coach Abi Holt.  "After winning the MVP award last year, and graduating the rest of the men's team, I wondered if Miles would lose a little of his focus and drive in his senior year.  That was a wasted thought.  Once again, Miles has turned out a season marked by amazing consistency, fast racing, and top-notch class and leadership both on and off the ski course.  Miles keeps the bar set high, and I think the entire RMISA has benefitted from his presence.  It will be hard on Utah to lose Miles next year, but is nice to send him off with this well-deserved honor.  He has earned it."
Havlick led one of the most dominant men's Nordic teams in RMISA history.  Although it's impossible to rank from year to year, the Utes racked up 995 team points on the season for men's Nordic, the most of any team, alpine or Nordic, men's or women's, under the current scoring system.  If a team goes 1-2-3 in every race, which has only happened once in the last four years in any race, the max points awarded is 141 and thus a regular season for a team would be 1,128, so Utah scored at the 88.2 percent mark of maximum points and averaged 124.4 points per race.
"I think Miles is very much responsible for the tight, close-knit group and success of the men's Nordic team," Sweeney said. "His teammates respect him immensely and I think this really paid off for all of us when you see someone acting for the team first. I know that this has motivated, and built confidence with the women's team too. It's also great to see Miles shake off a bad race, or enjoy a powder day on a day off from training, knowing that a new day brings new experiences. Miles loves racing, is a true competitor and he relishes the opportunity to ski fast and represent the U."
Overall on the season, Havlick won five of the eight races, finished second in another and also had fifth and eighth place finishes, both at the Denver Invitational.  He won three of four classical races, at the Colorado, New Mexico and Utah Invitational's, and won freestyle races at the latter two.  The defending NCAA Champion in the classical, he has won four of the last five classic races in NCAA action.
In 40 career races, he has finished outside the top 10 just five times with 31 top 5 finishes, 25 podium appearances and 11 race victories.   On top of being the NCAA Individual Champion last year, he is already a five-time All-American, including three first-team honors.
Havlick, the Utes and the rest of the RMISA will get the 2013 postseason underway next week in Montana (Feb. 22-24; Bozeman), before all the teams will head east for the NCAA Championships, set for March 6-9 in Vermont, hosted by Middlebury.
Joanne Reid Wins RMISA Women's Nordic MVP
(Boulder, CO) – On the strength of seven wins in eight races, University of Colorado senior Joanne Reid was named the Rocky Mountain Intercollegiate Ski Association Women's Nordic MVP Wednesday.  The award is based on a combination of all NCAA qualification points earned throughout the season in both classical and freestyle races.
With the seven wins and one second place showing, Reid earned a combined 399 out of a possible 400 points to beat out Alaska Anchorage's Marine Dusser by 18 points.  Equally good in both disciplines, the only race she didn't win was the second race of the season when she was a runner-up to her teammate Maria Nordstrom.
"I'm just happy that I could get out there, have an awesome time and give back to the team and coaches I love so much," Reid said. "It's really a team victory any time a Buff gets to win an MVP."
She earned RMISA Skier of the Week honors that first week and then went on a tear and won six straight races, the third longest streak for a CU skier since skiing went co-ed in 1983.  With four races left in the postseason, her seven wins ranks tied for third at CU in that same timeframe.
The last time an RMISA skier won MVP honors scoring all but one possible point was in 2008 when the Buffs Maria Grevsgaard has a similar regular season, winning all but one race and finishing second in the other.  Point totals being different, she scored 629 out of a possible 630 points that season.
Reid was never in contention for MVP honors in her first three seasons at CU.  Her first two seasons, she missed races while competing at the World Junior Cross Country Championships and last season she missed both races as part of the Denver Invitational, thus thwarting her chances.  She was the top finisher who missed two races last year.
Reid and the Buffs along with the rest of the RMISA get back to action at the RMISA Championship, set for Feb. 22-24 in Bozeman, Mont.  Nordic races will take place on Friday, Feb. 22 and Saturday, Feb. 23, while alpine teams will be in action Saturday and Sunday, Feb. 23-24.