February 15, 2013 (Nove Mesto, CZE) – The USA's Tim Burke put his race face on and made US Biathlon history on Thursday claiming silver in the men's 20km individual event at the 2013 IBU World Championships in Nove Mesto, CZE. Burke is no stranger to the World Cup podium recently placing third at Pokljuka, Slovenia, but this was the first World Championship of his career. This marks the second IBU Worlds medal for the USA as Josh Thompson won silver in the same event at the 1987 IBU World Championships in Lake Placid, NY.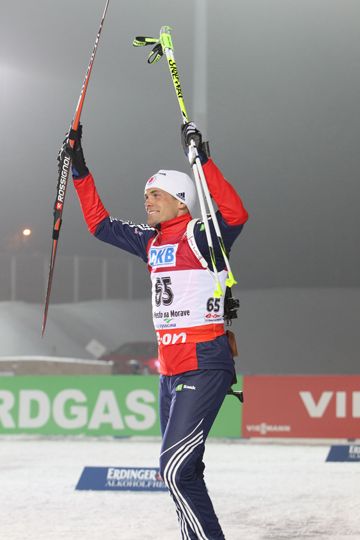 "I'm so proud. It's been such a big effort by our entire team and organization, and it feels great to help finally make that come together," said Burke post-race. "It was one of those races where I ended up being by myself for most of it, so I wasn't able to judge where I was from the others, but my shooting went really well so I knew I was going to be up there."
Winner Martin Fourcade (FRA), the World Cup leader, earned his first gold of these championships with a time of 49:43.0 and one penalty while Burke was 23.5 seconds back suffering two penalties. Taking home the bronze was Fredrick Lindstrom (SWE) with one penalty.
It was a strong day for the North Americans as Canada's Jean-Philippe Le Guellec, 27, celebrated a career-best World Championship result finishing 10th. The Shannon, Que. native missed just one target in his final round of shooting to clock a time of 51:31.4.
"I didn't feel great skiing, but I had to be a bit more controlled than usual given a very hard course profile, and slow conditions to ski in," said Le Guellec. "My tactic quickly shifted to shooting clean and fast. Top-10 is great all things considered, and it stamps my ticket for Sunday's mass start race which I am very stoked about."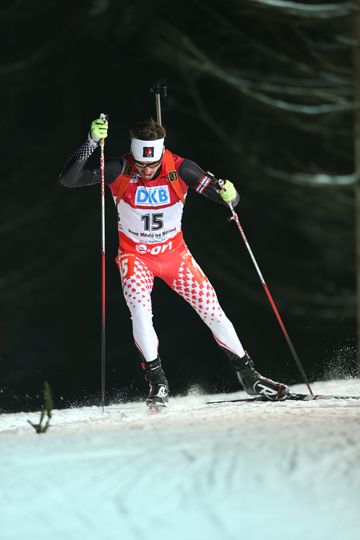 "I think being in the top-15 on any day is a good day. Today was a great day for us as a whole with solid shooting and skiing." added the two-time Olympian who became the first Canadian male ever to ski onto a World Cup biathlon podium by winning a sprint competition in Oestersund, Sweden.
Burke's had up and down start to the season and to the competitions in Nove Mesto but was able to set it all aside and focus on getting the job done. We asked him how important his recent podium was in building to his silver.
"For sure the recent podium in Pokljuka helped re-affirm my abilities and build confidence. It had been awhile since I'd been on the podium [2010] and it showed me that everything is possible," shared Burke, from Paul Smiths, NY, in a phone interview with Trax. Pokljuka was his first podium since his incredible 2009-10 campaign when he scored three podiums and became the first American to wear the World Cup leader's bib.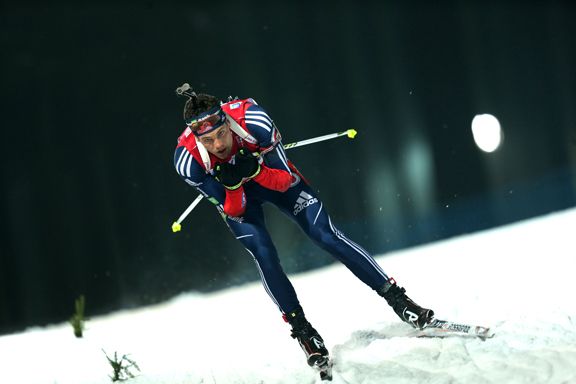 "I had a disappointing start to these World Championships in the first two races, so today I just wanted to be aggressive and not over-think things, and bottom line just go for it. I knew heading into the last lap that I was in second place, but in an individual race you can never tell how people are doing behind you, so I wasn't ready to start celebrating until after the finish," said Burke.
Adding to the strong North American performances were the USA's Leif Nordgren in 22nd with two penalties, Canada's Scott Perras 29, in 26th (0+0+1+1), Lowell Bailey (USA) was 29th posting a time of 53:09.3 with three penalties, Canadian Scott Gow, 22, matched Le Guellec's stellar shooting performance (0+0+0+1) to finish 31st, just outside the elite group of 30, the USA's Russell Currier from Stockholm, ME finished 60th with five penalties, and Calgary's Nathan Smith placed 63rd with three misses (0+1+1+1).
"We had a strong team day today as well. Thanks to the fans back home for all their support. I got a lot of encouraging messages over the last few days from people telling me to keep my head up and to keep at it, and it worked," added Burke.
"It's just so exciting and a phenomenal performance by Tim today," said Max Cobb, US Biathlon CEO in a team release. "All the evidence that Tim could do this has been there for a long time, but he put it together on the most important day of the year. The whole high performance staff has done an outstanding job, not just here but over the last six years that we've been working towards this. I couldn't be prouder of all of them. The whole group really helped Tim get this done today. It's a phenomenal milestone for Tim and biathlon in America."
Full results HERE.