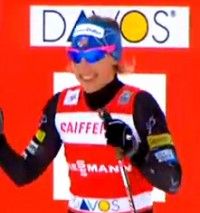 February 16, 2013 (Davos, Switzerland) – It was another strong day for the North American skiers as eight advanced to the heats on the uber-tough 1.5km CL Sprint course at the pre-Worlds World Cup in Davos renowned for its challenging circuits. The sprint course here clearly favours distance skiers as the first climb comes quick and features a U-turn corner followed by more climbing before a tricky S-turn descent where more than one top skier took a tumble.
Justyna Kowalczyk (POL) lead the women's Qualifications as Sprint Cup leader Kikkan Randall (USA) was the strongest NA skier in 5th followed by Ida Sargent in 17th, with Holly Brooks 21st and Dasha Gaiazova the lone Canuck in 23rd. Just off the mark were Americans Sophie Caldwell and Sadie Bjornsen tied in 32nd
In the men's Qualification the USA's Andy Newell (5th) and Simi Hamilton (6th) showed well on the tough course as Federico Pellegrino (ITA) topped the field. Two Canucks joined them moving into the heats as well with Len Valjas in 12th followed by Devon Kershaw in 23rd. Fellow Canadian stud Alex Harvey was back in action following his shoulder injury in 39th as he regains his form.
Women's Qualification HERE.
Men's Qualification HERE.