February 16, 2013 (Nove Mesto, CZE) – Canada's Jean-Philippe Le Guellec, Scott Gow, Nathan Smith, and Scott Perras had a great day at the office nailing a season-best 8th place finish in the men's 4×7.5-kilometre relay at the IBU World Championships in Nove Mesto, Czech Republic.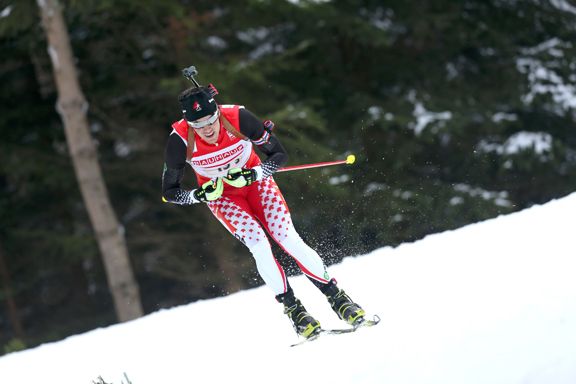 It back-to-back relay gold for Norway as Ole Einar Bjorndalen, Henrik L'Abee Lund, Tarjei Boe and Emil Hegle Svendsen  finished in 1:15:39, using five spare rounds in front of another capacity crowd of 27,000 fans. The silver went to France at 1:12.8 behind, with two penalties and seven spare rounds, as Martin Fourcade pulled out all the stops in the final 2.5km to overtake a 20-second deficit on Erik Lesser as Germany settled for bronze.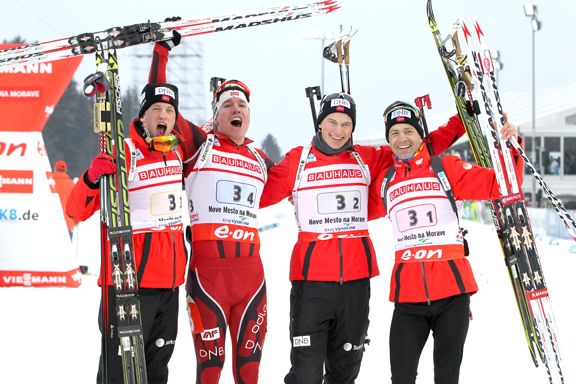 The strong Canadian team joined forces to clock a time of 1:18:44.7 using nine spare rounds. "All the relays this year have been this group of guys and we have tried different roles and have tried different roles, and have struggled through a few, but today made up for all of them," said the 29-year-old Perras in a team release. "The guys did a great job, and I just had to close the deal. There was a lot of pressure on the last leg, but I though if my three teammates can throw down great races then so can I. It ended up being a great day for us."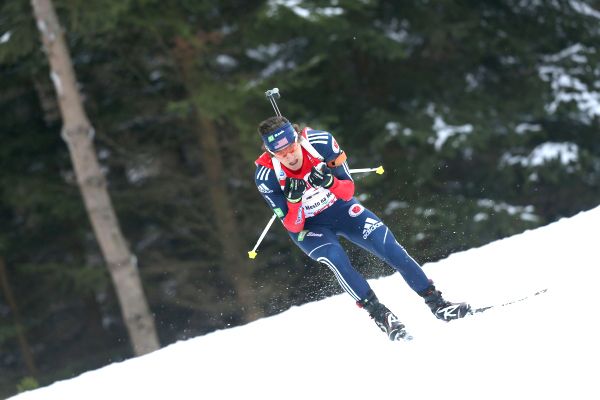 Team USA's Lowell Bailey, Tim Burke, Russell Currier, and Leif Nordgren posted a time of 1:19:40.8 with 12 spare rounds to finish in 12th place.  "I'm pretty disappointed with today's race.  I imagine the rest of the guys are as well," Nordgren the anchor commented in a team release. "I expected a lot more from myself, and I know as a team, we are capable of a much higher result. But today wasn't our day for some reason."
Nordgren felt a little sluggish on the skis. "The 20km was just two days ago, so maybe I was still a little tired from that, I'm not sure. I tried to make up for it with faster, more aggressive shooting, but I was a little bit off today. All the guys on our team are super talented. We have what it takes to be at the top for every relay, and I guarantee we will be back next year, better than ever," he added.
Full results HERE.