February 17, 2013 (Nove Mesto, CZE) – Darya Domracheva (Belarus) stamped her mark on the final day of competition at the IBU World Championships in Nove Mesto on Sunday as she stormed back mid-race to take the lead and stay in front to win gold in the women's 12.5km Mass Start event.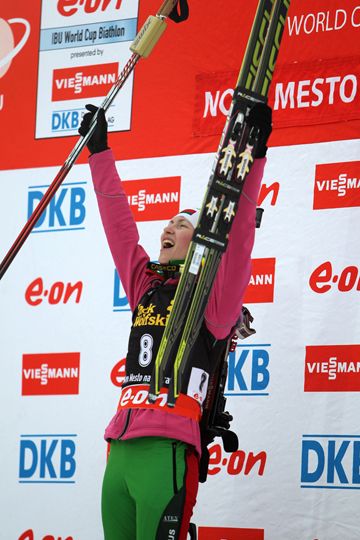 The Belarus star finished in a time of 35:54.5 with two penalties as Norway's Tora Berger took home the silver at 8.7 seconds behind also with penalties. The bronze went to surprise winner, Monika Hojnisz of Poland, with a time of 36:22.1 and one penalty.
Berger and Domracheva each suffered one penalty in the opening round of shooting and trailed the leaders who shot clean – Krystyna Palka (POL), Germany's Miriam Gössner and Olena Pidhrushna (UKR). Following the second prone session Domracheva was trailing by 11 seconds but closed the gap and took over the lead heading into the first standing stage where she cleaned and opened a bigger gap.
Chasing her were Gössner, Palka, and Vita Semerenko of Ukraine with Berger, who missed a shot in the first standing stage, making up ground behind. Gössner looked strong in second as Domracheva suffered a miss in the final standing stage opening the door for Gössner, but the German cracked and missed three shots.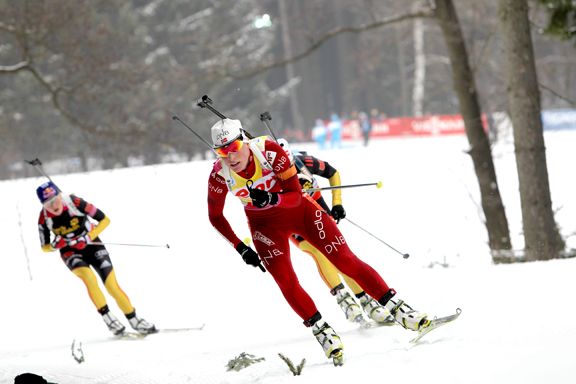 Semerenko and Palka also suffered penalties but Hojnisz and Berger shot clean as the Norwegian took over second and tried to run down Domracheva as Hojnisz followed in third. But Domracheva was too strong as she was on a mission for the gold to salvage her lacklustre Worlds.
"I felt like I was in good shape and my shooting was good. I had some bad luck in the other competitions. This medal makes my emotions much better," Domracheva told biathlonworld.com. "After all of the heavy feelings in the days before this…It was such a good feeling a few meters before the finish line today."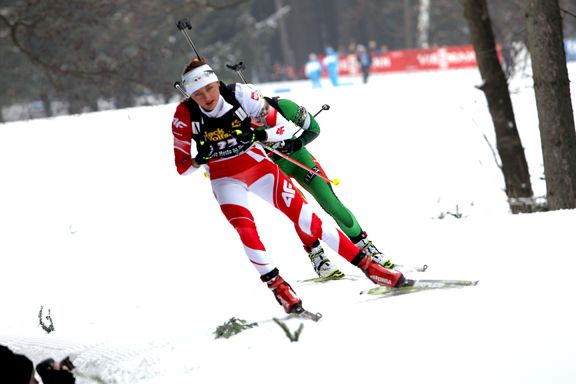 With her silver Berger earned a historic six medals at the IBU World Championships – four golds and two silvers – becoming the first biathlete to claim a medal in each event at a single championship.
"I expected Darya to be battling with me in the other competitions. Today she was better; someone else was the strongest today. I think I will spend some days sleeping this week; it will be nice to have some time away from biathlon," said Berger.
Following a break this weekend athletes focus their attention to resuming competition in the E.ON IBU World Cup with round 7 from Oslo Holmenkollen, Norway on March 1st with the women's Sprint competition.
Full results here.