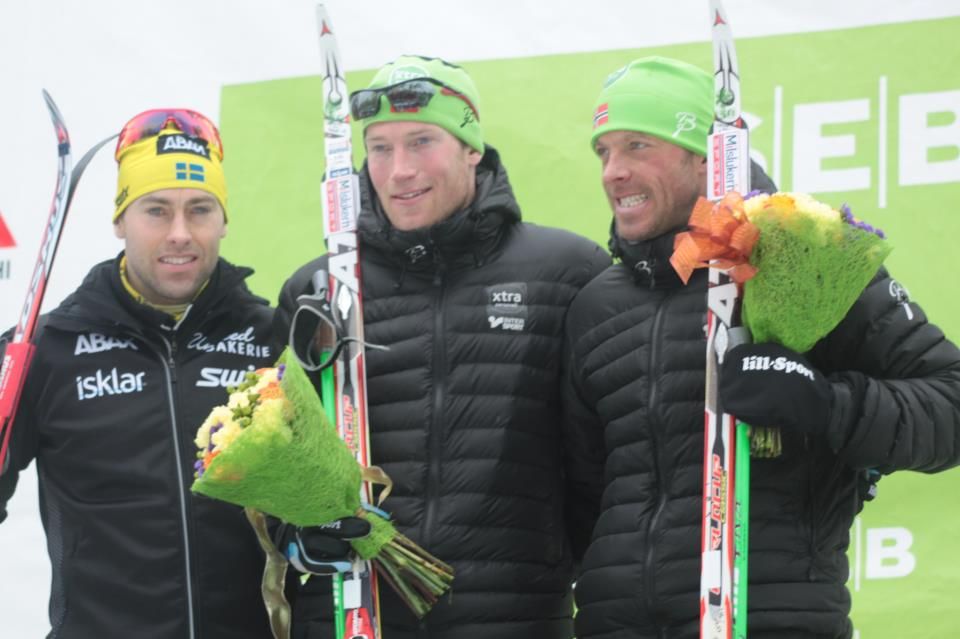 February 18, 2013 (Otepää, Estonia) – Simen Oestensen of Norway and Sweden's Sandra Hansson won the 2013 men's and women's 63km CT Tartu Maraton in Otepää on Sunday. Conditions were ideal, with temperatures of -4 C at the start, no wind and a beautiful 63km long track through the Estonian woods.
The race ended in a bunch sprint, with 17 racers finishing within 10 seconds of one another! The elite skiers tried to break the group up on the long and steep climb at Harimägi, about 16km after the start, but it didn't work out as planned. So the big group stayed together, and only in the last 15km did the race get faster and faster, but still 17 racers fought for the finish sprint. Oestensen was the fastest and scored the win. This victory is his first ever FIS Marathon Cup victory! Behind him, last year's winner Jörgen Brink (SWE), got his foot across the finish line for second place, right in front of Anders Aukland (NOR), who also previously won the Tartu Maraton.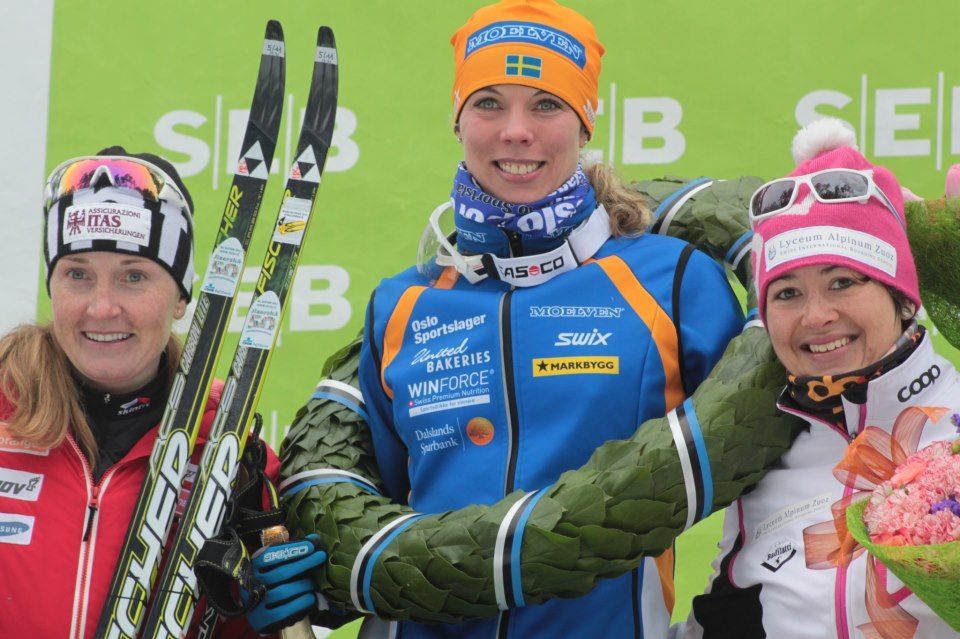 On the women's side, it was a lonely race for Hansson. The first woman to cross the finish line led the women's race from start to finish, only experiencing a challenge in the first 15km, in which she was followed closely by Tatiana Mannima (EST), who would pay for the high pace and the energy used to obtain it. Stephanie Santer (ITA) and Ursina Badilatti (SUI) chased the Swede, but with over five minutes advantage, Hansson's victory was never in question. Even though Santer and Badilatti were in the same group, it was not a "girls ski out". Both fought hard with Badilatti, having the better skis in the downhill sections, always passing Santer but having to let her go when it pointed uphill again. In the
end, Santer was able to gain an advantage, pushing her skis to finish second ahead of Badilatti.
Aukland, with his third place today, is now the new leader of the overall FIS Marathon Cup with 220 points. Sergio Bonaldi (ITA) and Benoit Chauvet (FRA) are now tied in the second place with 166 points each (having finished in the exact the same places). Two Norwegians are following in third spot: Joergen Aukland and Petter Northug both have 160 points apiece.
On the women's side, the ranking is much clearer: Tatiana Manimaa (EST) is enlarging her lead in the overall with her fourth place today. She now leads with 293 points in front of Seraina Boner (SUI, 240 points) and Stephanie Santer (ITA,222 points).
QUOTES:
Simen Oestensen (NOR):
I knew from training that I am fast, but I couldn't really show it in competitions until now. So I am really happy that it finally worked out! Anders and I talked a bit during the race and we tried to ski very hard from around km 15/16. But it didn't really work out so we all stayed together. Already about 15km before the finish I knew that it would be a finish sprint so I prepared for that and it worked! I am really happy! Now I will prepare the Vasaloppet and then I hope that I can do the World Cup in Lahti.
Joergen Brink (SWE):
Well, Simen was just faster today, I would say! Surely I wanted to repeat my victory from last year, but I now happy with the second place! Tartu Maraton is really on of the best long distance races … I really like the track! It's not completely flat but a lot of up and down.
The conditions were really good today but a little snow on top of the track made it very difficult. The two Russians and Team Xtra made a lot speed in the beginning, but then we became a big group again and it was not worth trying to get away. I am happy that in the end it worked out with the second place in the finish sprint!
Anders Aukland (NOR):
I am really happy that I could make the podium today. With a finish sprint it's not that obvious – everything can happen! We tried to break the group from the big climb on, which was not long after the start, but it was easy to close the gap for the others and so we were a big group again and the race turned out to finish with a finish sprint.
Sandra Hansson (SWE):
It's wonderful to be back finally! And to win for the 4th time here in Tartu is really something special! I really like this track – the Tartu Maraton is one of my favourite races! The track profiles demands a lot of double poling which I like and the uphills are not that long which is great!
Stephanie Santer (ITA):
Wow, that was a hard race! My skis didn't glide that perfectly so I had to push pretty hard the whole time. But of course I am really happy that in the end it worked out with the second place. At around km 25 I caught Tatiana and then I knew that something might be possible and I just kept pushing.
Ursina Badilatti (SUI):
YES! Finally a podium! That is just so great! It was a hard race but I had great skis! I tried to stay with Stephanie who was always a little bit in front of me. When we caught Tatiana I knew I had to keep pushing to make sure that this would end with a podium for me today! I am really really happy. It's a great feeling that finally all the work pays off!
Click HERE for full results.
Important dates & practical information
– February 23: American Birkebeiner (USA) – 8th FIS Marathon Cup 2012-13 / 50km FT