February 18, 2013 (Waterville, ME) – Team efforts, tricky waxing, tempestuous winds, and a technical course were the trademarks of the final TD Bank Eastern Cup held at Quarry Road in Waterville, Maine.
The first team effort was that of Augusta Trails and the Quarry Road Recreation Area partnering to move the race from its scheduled location at Bond Brook in Augusta to neighboring Waterville and the Quarry Road Trails. Thanks to those teams of volunteers who made the events possible.
Despite a change in venue due to low snow, the Bond Brook Eastern Cup went full steam ahead today. Relocated to the Quarry Road Recreation area, athletes had the chance to ski on a challenging FIS homologated race course that was new to most.
Julia Kern, CSU, made a move on the final uphill before the stadium, to open a gap on Katherine Ogden, SMS, and Leah Brams, CSU. Katherine and Leah managed to close up the gap heading into the stadium, but some confusion ensued within the lap and finishing lanes, which led to a shuffling of the finish order. Julia took top spot, followed by Leah, then Sonya Jampel of Newton, MA in third.
In the J2 Boys division, Koby Gordon, SMS, skied a very strong race finishing 1st. Zane Feilds, Woodstock, VT came in 2nd and Gavin McEwen, CSU, rounded out the podium in 3rd.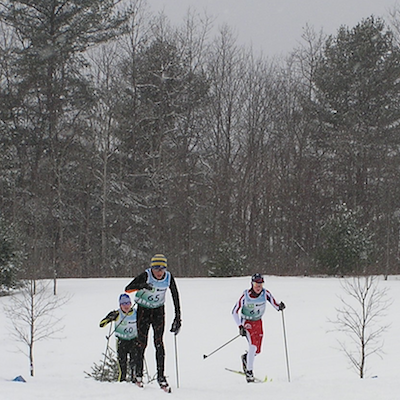 The snow kept falling making conditions very slow for the open races -combined with the tough climbs, skiers definitely knew they had raced today In the women's 10km mass start, Heidi Halvorsen, GMVS, also opened up a gap in the final kilometers, only to see Hannah Benson, Mt Washington Nordic, and Cate Brams, CSU, closing in fast at the finish. Heidi held them off though to take the win over Hannah with Cate in 3rd.
The final race of the day was the mens 15km mass start. Three laps of the grueling course took its toll on many of the skiers but Welly Ramsey, MWSC, made it look easy. Welly broke away early and stayed away finishing in convincing style. Alex Schulz, Dartmouth, and Justin Freeman, Holderness Nordic, hung tough for 2nd and 3rd places.
The racing continues on Day 2 with a freestyle interval start at 10 AM with the J2 boys starting off the activities.
Day 2
Day Two was a test of mettle given the cold temps and sharp winds that buffeted the racers throughout the day. Competition was strong as J2, J1 and OJ athletes raced for their final chance at points needed to qualify for New England's Junior National Team. Junior National rankings will be available here at 1:00pm Monday.
The tough conditions were no match for the Campridge Sports Union athletes who had a banner day on Saturday and took five of the top six spots in the women's freestyle race on Sunday. Maddy Pheifer of Green Mountain Valley School spoiled the podium sweep skiing into second place splitting CSU's Leah (3rd) and Cate Brams, the eventual winner.
Stratton Mountain School's Koby Gordon completed another weekend sweep, winning both J2 Boys races ahead of Zane Fields of Woodstock Nordic who took second both Saturday and Sunday. Nathaniel Kuzio of Mansfield Nordic took third on Sunday.
In the men's field, Bred Bedart took top honors ahead of biathlete Raleigh Goessling of Maine Winter Sports Center in second and in third, Jack Schrupp of Gunstock Nordic.
Full results HERE.