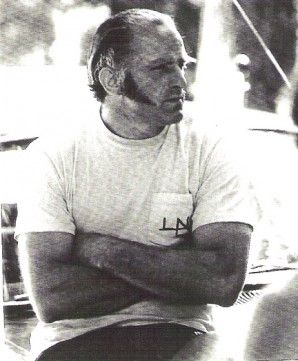 Marty Hall circa 70s
March 05, 2013 –
I'm Back
– A small sabbatical or hiatus as I was away skiing at various events. Lots has been going on during this time and here are some afterthoughts on what's been happening while I was gone. Love to hear what you think and if you want to talk more directly to me you can call or e-mail me – now included with all columns at the bottom.
Now On Another Sabbatical – Chandra Crawford's chances of making it to the Olympics next year are very slim in my estimation. Personally, I think she is one of the more gifted women sprinter's in the world, hands down – and just in the last year or so in both techniques.
Her history is that she is not a good trainer, although her claims when she aborted the World Cup was that she felt she had over-trained. Her start in the first two races in Bruksvarllarna with very good international fields were excellent – both distance and sprinting. Then she walked off the side of a cliff with really bad results, missed races, claiming her legs ached all the time and then finally chucked it in.
Legs aching indicates being under trained – just the opposite of what she thought. I understand she has qualified for Sochii, but I can't believe that CCC and the coaches won't require her to jump through the qualification hoops next year – good luck. Her efforts to rejuvenate her training and racing brain cells is going to be the biggest battle of her life – I wish her the best.
PS I'd suggest that she try to get herself race-ready for the Spring series in the US and Canada. That's this spring!
How Did This Happen? – How the Canadian Team left for the Worlds without Jesse Cockney on this team is beyond me. After the the big four on the squad, Jesse is the next international male talent in Canada hands down. The committee that selected the team seems to have a real lack of international acumen.
First off, how could you not pick him after his Canmore sprint results…? Not only did he qualify 2nd he advanced in the heats and placed 3rd in his semi-final to finish 9th overall – that's a superb result. The line-up for the next three years is WSC 2013, Olympics 2014 and WSC 2015 and this is a period to be developing the young people who have international talent – not dragging the old dogs through another trip.
A big athlete development chance missed as there is nothing that he will do for the rest of the winter that would measure up to the two weeks he could have spent in Val de Fiemme.
Northug's Dilemma – Pettr was skiing with double pressure in the 50km on Sunday – not only for himself and winning the premier event of the games for the men, but to see who was going to have top bragging rights at home in Norway. Marit set the bar pretty high with her effort in winning the 30km CL on Saturday. That was a 3-lady steam engine that went at that race pretty ferociously as you can tell by the time spreads. If you didn't get on the engine right away you were relegated to the caboose.
PS – If you are going to wear a short sleeve shirt – opt for a synthetic underwear top not the inefficient cotton type I'm sure were being worn. They retain the sweat and have a cooling effect that takes lots of energy with it – the polypro has a wicking effect – much better to be racing in.
Scratching His Head – Devon Kershaw has to be wondering where the freight train came from that has run him over. Yes, he has had food poisoning and other stomach issues, but even before all that he's been a whimpering puppy in the races since the beginning of the season.
Here are my thoughts on what has happened since his great season last year (and it was a great one). Go back to the month of April,  2012 – "the active rest month" – he was back-country skiing day after day, huge hours, lots of sun, at big altitudes, doing big verticals (up and down) and I'm sure, not getting all the rest he should have to support this program (plus a fare share of wine now and then—which is expected in April).
Also, look at his summer – never in Canmore for any extended periods of time – trips all over the place, lots of international travelling (jet lags) for promotional and personal things and also for their training camps.
Devon's body right now is as the Russians say – KAPUT!! Give it one more weekend – if it's a no go then it's no-show for the rest of the season – my suggestion.
PS Two years ago, Northug fell into this trap – running around, big Vegas gambling trip, lots of junk going on all summer – set him up for a below normal year and his season ended early, also.
The Hoff – Love his up-front efforts – if you don't go there you'll never know how to get there. It's a big learning curve – sort of like Columbus looking for the "new world" – some day it's going to click – I'll always applaud a skier for doing that.
PS Hoff – your 2nd strategy is referred to as a coping strategy – you should always have one as things are always changing.
Johann Olsson…the Best-Ever 50km – I can only think of one other 50km that would challenge Olsson's effort and that would be Gerhard Grimmer (DDR) double poling the 50km course at Holmenkollen because they missed the kick wax in the 70s. He would have probably tested positive if we had been testing back then (my opinion).
Tom Holland, Canadian Nordic Program Director, said – "We have a strong women's sprinting team…" or words close to that before the Worlds – nope, nada, nyet. The Americans do, the Norwegians do, the Swedes do – the Canadians couldn't even make it to the finals at the Worlds. The Canadian women's program is weaker than when they started on the new direction this spring. There needs to be shake up here. A lot of money is being unwisely spent the past couple of years.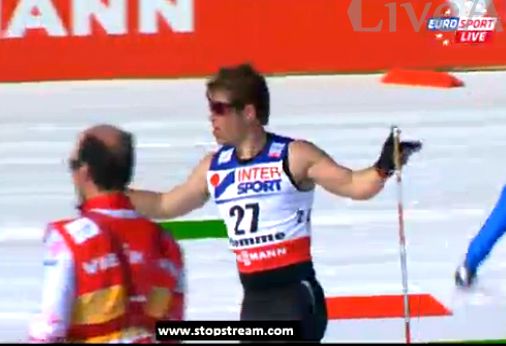 Freeman in the 50km CL transition looking for his skis.
Question?? – Did Freeman ever get another pair of skis when he stopped to change skis?? There's egg on some one's face – I would think?! I never saw or heard the out come.
Talk to you soon!
MisterXC@aol.com
603-397-5329