March 05, 2013 (Val di Fiemme, Italy) – The USA's Kris Freeman didn't have the Worlds he was hoping for but showed his top form is there with a strong leg in the men's 4x10km Relay. As Freeman told Trax he "dug really deep in the relay" and came up a bit flat for men's 50km CL. Not being able to find his skis in the transition zone didn't help…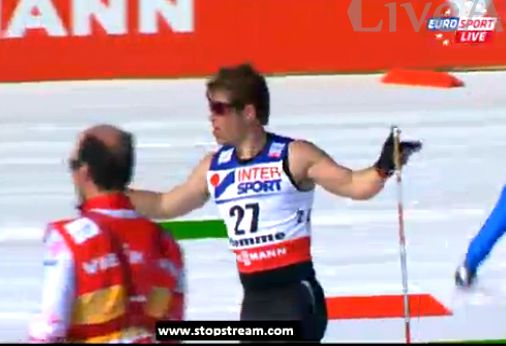 Freeman in the 50km CL transition looking for his skis.


Tough day out there… we saw you in the transition zone looking for your skis.
Kris Freeman: Yeah that was not fun.  The techs found some new powder and wax that was working much better.  They needed time to apply the new waxes so they radioed the coaches on the course to tell me that I could not change skis as planned.  I did not get the message.  The miscommunication certainly did not help my race.  However I was already out of contention for a good result anyway.
Talk about the race and the conditions – how did this course compare to other 50k's you've done ?
KF: The course is relentless with short steep pitches that transition to long gradual crests.  The downhill are similar with long gradual downhills that really accentuate differences in ski speed.  Extra kick translates to slow skis so it is a delicate balance.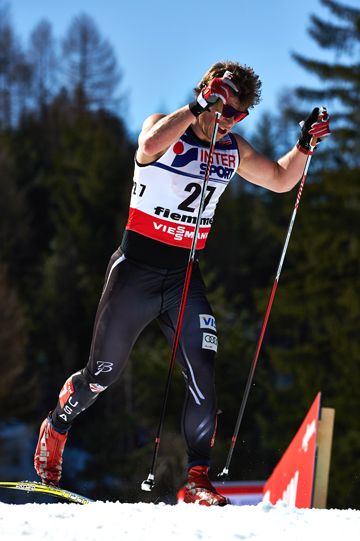 FIS nordic world ski championships, cross-country, mass men, Val di Fiemme (ITA)
How were you feeling thru the race…you were leading during your leg?
KF: I dug really deep in the relay and failed to recover fully.  I felt flat from the start.  The initial pace of the pack was very manageable but I had no response when the pace picked up at 20km.  I got dropped at 25km and I was barely moving until my teammates caught up to me.  I skied behind them for a lap and then got my bearings back.  Then I followed Sami Jauharvi for a few laps before skiing alone to the finish.
What were you hoping for today and what would you consider doing differently to improve your result ?
KF: I was hoping to improve on the 12th place I had in Sapporo but clearly that did not happen.  I tried a lot of new things in training this year.  I will have to evaluate what worked and what didn't but it is not time for that yet.
What's up next for you… ?
KF: I will compete in Lahti and the Holmenkolen before going to Spring Series.
All the best with the rest of the season.
KF: Thanks.