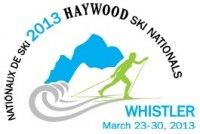 2013 Haywood Ski Nationals
March 06, 2013 (Whistler, BC) – In a few short weeks, athletes from around the country will converge on Whistler for the 2013 Haywood Cross Country Ski Nationals. March 23 to 31 will include races in both skate and classic techniques, from sprints to mid-distance to the final 50k men's race and 30k women's race.
Joining new and returning racers will be Canadian National Team members Devon Kershaw, Alex Harvey, Len Valjas, Daria Gaiazova, Perianne Jones, and Ivan Babikov. This March competition marks the team's return from the World Championships in Val di Fiemme, Italy.
For the first time in Canadian history, the Biathlon Championships, the Haywood Cross Country Ski Championships, and the Aviva Ski Jumping and Nordic Combined Championships will all be happening in succession at the Whistler Olympic Park venue at Callaghan Valley.
WOP has proven to be a well-used facility since the 2010 Olympics as the sport of cross-country skiing becomes more popular within Canada. A great source of cardio, Nordic skiing is a good way to stay fit and to keep healthy.
"We're excited to be hosting an event of this calibre so soon after the Olympics," said Sherryl Yeager, Event Chair. "We're seeing a growth phase in the sport so it's more exciting than ever to have Nationals here in Whistler."
Entry to watch all races is free and spectators are encouraged to come out and cheer. This will be the last major race for the Canadian National Team in Canada before the 2014 Sochi Olympics.
Ski Nationals 2013 would like to thank event sponsors Haywood Securities, Buff Canada, Clif Bar, The Nordic Shop of Squamish BC, Deep Cove Outdoors, Impact Canopies Canada, Q Energy, Executive Suites Hotel & Resort, the Whistler Question, The Squamish Chief, Avis, Salomon, Fischer, Swix, Nesters Market, Halti Skiwear, Sauce Headwear, Bliz Active Eyewear, One Way, Rossignol, Ski Go Wax, RC, Icebreaker, Whistler Hotels, Silverfoot, Whistler Chocolate, Whistler Brewing Company, as well as the support of the Whistler Athletes' Centre, and Hosting BC.