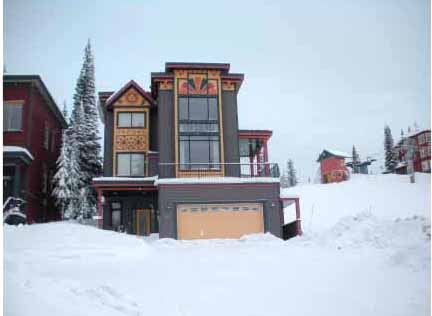 Then the Sun Valley team drove 15 hours to Silver Star, BC for two NorAm Skate races. Unfortunately my shins were not happy with me after the Bozeman race and I had to sit out of both races in Silver Star. After the team threw down a couple good races there – the US skiers did really well against the Canadians – we drove to Canmore, Alberta for two classic sprints, also Canadian Olympic qualifiers. Sitting out of races was torturing me and so I was fired up for the Canmore sprints.
Three days after arriving in beautiful Canmore (stunning mountain pictures below), I woke up with a sore throat and felt a cold coming on. I did everything I could think of to prevent this sickness from hitting me. I took tons of vitamin c, zinc, herbs, I rested, I ate well, I tried to sleep a lot. I thought I was on top of the cold until the day before the first sprint when I woke up feeling very tired and dried out. My pre race-day warm-up was walking on my skis three times around a 1.45km course. I also did a lot of imagery (at speed) to get mentally ready.
The next day I felt even worse upon waking. But luckily, during my warm-up on Saturday, I started feeling like I could have a really good race that day. I threw down a time in the prelim and qualified 22nd over all. This placing qualified me for the heats, but my coaches encouraged me to sit out of the heats in hopes that the next day I would be feeling better and might be able to race the rounds.
Again I did not like the idea of missing another race, but it was the right decision. I went to bed that night feeling confident and psyched to race faster the next day. I had analyzed my race and had figured out where I lost time and what I could do better the next day. I had determined that I had lost most of my time around the one down hill corner where I lost my balance and had to stand up so I wouldn't crash into the fencing since my skis were so fast. I knew exactly how I was going to race that corner the next day.
Unfortunately I woke up on Sunday feeling like I had just been hit in the face by a bulldozer. However, I kept my mind mentally prepared since I had proven the day before that I was capable of having a good race even when feeling sick. So I warmed up and raced. A combination of having low energy and having super slow skis made my prelim difficult. I may have been a bit slower on the uphills due to fatigue, but for sure, on the down hills I lost time due to slow skis. I was double poling downhills that I tucked the day before, and was striding sections I had double poled.
My body was having a hard time regulating my temperature and when I got to the finish line my face was blue, I couldn't stop shaking, and I was having trouble breathing. For the next 20 minutes or so I sat in the medical room wrapped in a blanket, holding hot water bottles and breathing in extra oxygen. When the results were posted I was really excited and relieved that I had just slipped into the senior rounds, qualifying 29th. However, once again, my coaches convinced me not to race the heats. At the time of the decision it was hard for me to swallow sitting out yet another race opportunity, but at the end of the day, when I was still shivering and feeling worse than ever, I realized it was for the best.
Last night the team split up for the holidays. I flew back to Sun Valley this morning and will celebrate Christmas with my family here! We need a few more inches of snow, but it will do the job. Now I just have to rest up and prepare the US Nationals! Hoping for a great week of racing. Off to Alaska in eight days! Can't wait!
Happy Holidays!