April 06, 2014 (Girdwood, AK) – Four-time Olympian Kikkan Randall (APU) topped the women's field at the 2014 AK Skimeister Challenge on Saturday with a time of 59:53.01. She was the only woman to finish in less than one hour, putting her in sixth place overall. Mark Iverson, a former APU skier originally from Steamboat Springs, Colorado, was the fastest man with a time of 50:17.72 reports the Anchorage Daily News.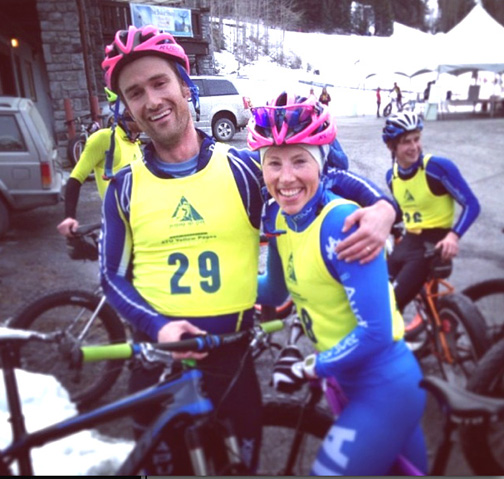 The event, in its second year, incorporates a downhill ski from the top of Mount Alyeska down to the Hotel Alyeska, followed by a 6km xc ski section. The final leg of the event features an 8km fat tire bike race.
"I was as high as 3rd after the Nordic leg but lost some ground to the boys on the bike," Randall told SkiTrax. "It was pretty technical single track for the bike, over snow and ice. Pretty fun.  My legs were screaming on the downhill portion and the course was pretty fast." See Randall's tweet here.
Reese Hanneman (APU), who recently won his first title at the US nationals and is fresh off a U.S. National Championship mixed relay victory, claimed 2nd which is the same position he finished last year.
Results
Women Individual
1. Kikkan Randall 59:53.01
2. Melanee Stiassny  1:09:04.76
3. Shannon Donley  1:09:40.92
4. Natasha Von Imhof  1:29:49.04
5. Maggie Donnelly  1:33:34.72
Men Individual
1. Mark Iverson  50:17.72
2. Reese Hanneman  53:03.97
3. John Novak  57:15.72
4. Charlie Renfro  57:29.57
5. Darren Mattingley  59:04.26
Full Results
Adult & Junior Skimeister
Team Rank and Results
Alpine Race Results – Male and Female
Female Nordic Results
Male Nordic Results
Female Bike Results
Male Bike Results
Anchorage Daily News article here.