April 02, 2017 (Quebec City, Que.) – Alex Harvey received a special tribute last week in Quebec's National Assembly in recognition of his exceptional performance at the 2017 Lahti Nordic World Championships in Lahti, Finland winning the men's 50km F race on the final day of the competitions. Harvey also finished third overall in the overall men's FIS World Cup final ranking.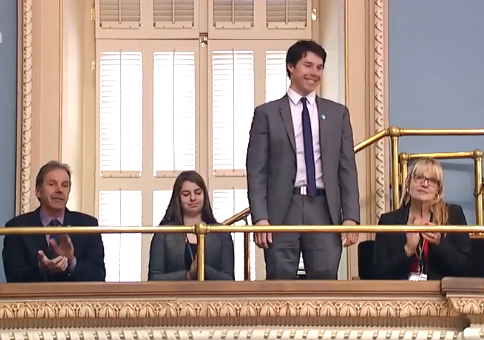 Event organizer, Gestev Inc., and president Patrice Drouin were also noted for staging the final races of the World Cup in Quebec City where Harvey claimed the Sprint F win, finished 4th in the men's 15km CL, and took home silver in the final 15km Pursuit to wrap up the season.

The members of the House of Commons adopted a joint motion congratulating the Saint-Ferréol-les-Neiges athlete who was in the stands with his parents Pierre and Mireille Belzile along with his girlfriend Sophie Ringuet.
Minister of Education Sébastien Proulx praised the inspiring journey of his father Pierre [Harvey] and Alex's positive influence on young people.
"A gold medal at 50 km at the World Championships in Finland and a third place overall in the World Cup, which is very impressive! Congratulations on these accomplishments, we are proud to have a sports ambassador like you," concluded Proulx as the assembly gave Harvey a standing ovation.
Read more here (in French).
part of the Minister of Education Sébastien Proulx