February 14, 2017 (Hochfilzen, Austria) – In the span of one year, biathlete Lowell Bailey has gone from the brink of hanging up his rifle and skis to becoming the first athlete – of any sport – to qualify for the 2018 U.S. Olympic Team.
"It's a goal that I've had for a long time and I think now it means so much more for me to be competing with the support of my wife Erika and our new daughter Ophelia," Bailey told TeamUSA.org of making the Olympic team. "To know that I can represent the U.S. team for her is really special for me to be able to have that privilege."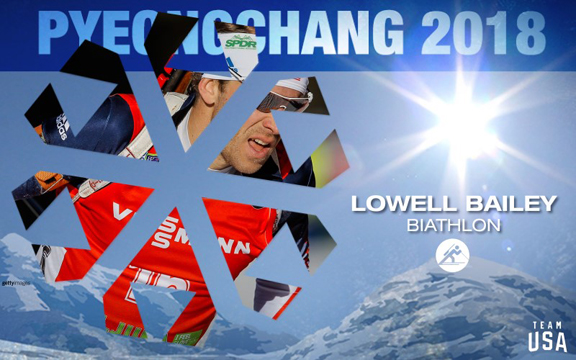 Bailey had planned on last season being the final one of his career, but an unexpected job offer at a biathlon center in Bozeman, Montana changed that plan. The offer came with the stipulation that if Bailey competes through the PyeongChang 2018 Olympic Winter Games, there would be a job waiting for him after that season.
The 35-year-old punched his ticket to his fourth Olympic Winter Games by virtue of a top-six finish at worlds. And he hopes to use his final Games as an opportunity to win Team USA its first-ever biathlon medal in Olympic history.
His fourth place in the sprint was Team USA's best finish in the 10K sprint in world championships history, and the country's third-best result in any event, behind silver medals won in 1987 and 2013.
Bailey nailed all 10 targets and covered the course in 23:57.9, 29.5 seconds behind gold medalist Benedkt Doll of Germany. The silver medal went to Norway's Johannes Boe in 23:28.1, while the 2016 world champion, France's Martin Fourcade, took bronze in 23:50.0, only 6.4 seconds ahead of Bailey.
He confirmed his spot on the team when he placed sixth in Sunday's 12.5K pursuit, behind Fourcade, Boe, Norwegian biathlon legend Ole Einar Bjoerndalen, Russia's Anton Shipulin and Czech Republic's Andrej Moravec.
"It's a huge confidence boost," he said of his performances this weekend. "The last two days have been the best world championship results of my career, and that gives me the confidence going forward with my training and my approach to PyeongChang to really attack the races there."
The weekend's results were Bailey's best solo international performances since March 2014, when he earned his only world cup podium, a bronze in the 10-kilometer sprint in Kontiolahti, Finland, that was upgraded to silver eight months later after a positive doping test by Russia's Alexandr Loginov.
Bailey and his teammates see PyeongChang as the prime opportunity for the nation's first Olympic medal, whether it be in an individual event or the men's relay.
"I really think we could do it in the relay – although we haven't had a chance to show it yet this season, we showed it last year when everyone was healthy and we were sixth in the world," Bailey said. "To me, that relay would be the sweetest way to usher in the first-ever Olympic medal for the U.S.
"Having it be that relay team of guys I've known and trained with for years and years – I think we all want it so badly, we just have to put it together. That's the type of stuff I'm excited for when I look toward next season and the Olympics in PyeongChang."
Also in action for Team USA on Sunday in the men's pursuit were Tim Burke (Paul Smiths, N.Y.), Leif Nordgren (Marine, Minn.) and Sean Doherty (Center Conway, N.H.). Burke finished 32nd, Nordgren was 49th and Doherty came in 55th.
In the women's 10km pursuit earlier in the day, Susan Dunklee (Barton, Vt.) was the top finisher in 22nd place, followed by Joanne Reid (Boulder, Colo.) in 38th and Clare Egan (Cape Elizabeth, Maine) in 41st.
After a couple days off, the IBU World Championships resume on Wednesday with the women's 15km individual race, beginning at 8:30 a.m. EST and streamed live on eurovisionsport.tv/ibu.
Results
Men's 12.5km Pursuit
1. Martin Fourcade (Fra) 30:16.9/+1
2. Johannes Thingnes Boe (Nor) +22.8/+3
3. Ole Einar Bjoerndalen (Nor) +25.6/+1
6. Lowell Bailey (USA) +34.7/+1
23. Christian Gow (Can) +1:57.3/+1
32. Tim Burke (USA) +2:45.4/+3
47. Scott Gow (Can) +3:56.0/+7
49. Leif Nordgren (USA) +4:11.1/+5
52. Brendan Green (Can) +4:19.5/+5
55. Sean Doherty (USA) +5:15.2/+9
Women's 10km Pursuit
1. Laura Dahlmeier (Ger) 28:02.3/+1
2. Darya Domracheva (Blr) +11.6/+0
3. Gabriela Koukalova (Cze) +16.6/+3
22. Susan Dunklee (USA) +1:44.7/+4
38. Joanne Reid (USA) +2:37.3/+1
41. Clare Egan (USA) +3:01.3/+3
43. Rosanna Crawford (Can) +3:04.3/+3
Full results here.