January 31, 2018 – "I write down my goals so that when I get them, I'll know I was brave enough to want them." -Alexi Pappas. It can be incredibly hard, goal setting. It takes guts to admit that you want something so badly it hurts, and then put everything you have towards getting it. It stings when you don't get what you want. It can be overwhelming when you DO get it.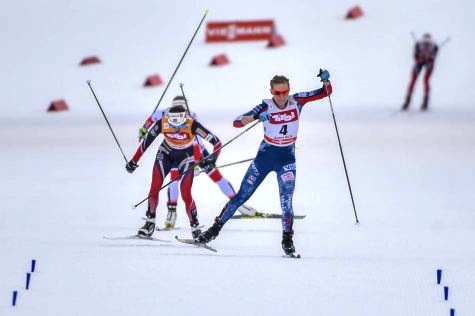 And sometimes it scares me when I realize just how much of my being I've committed to this crazy sport that I love. But I wouldn't be doing this right if I didn't admit that I love the idea of going after the impossible, of doing something that's never been done before. We've never had a Women's XC medal at the Olympics. You know that. I know that. Your second-cousin-once-removed knows that. But until yesterday, we've never had a Woman win any distance longer than 10km, either. We've also never had this many different Women on the World Cup podium in one season. –
read Diggins' blog here.