November 24, 2017 (Ruka, Finland) – Nordic National Team member Bryan Fletcher had a strong start to his season earlier today, posting a 17th place finish in the opening Nordic Combined World Cup of the year. The competition was the beginning of the "Ruka Tour," three competitions in three days to kick off the season.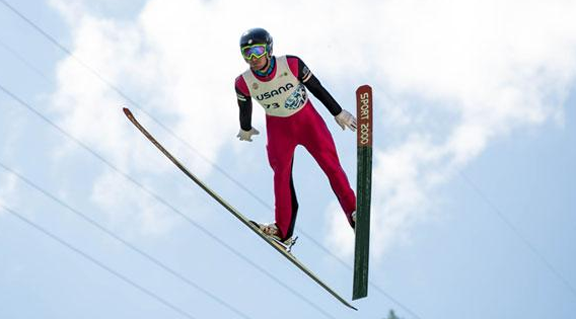 Today's event featured a sprint event to kick the season off. One jump on the HS142 followed by a 5km race. Tough wind conditions made for mixed results in the field of 50.
Austrian skier Mario Seidl picked up right where he ended the summer, leading after the round of jumping. Unfortunately for the Austrian, he would slip to fourth.
The day was won by Espen Andersen of Norway, who hung on by seven seconds to beat teammate Jan Schmid (2nd) and Akito Watabe (3rd) of Japan.
Fletcher, the lone skier representing the US in today's field, had a solid performance to start the season. He began the day with a strong jump of 114.5 meters to put himself in 18th position going into the race.
"Going into today, some small changes needed to be made," said Fletcher. "I understood that it was going to be a bit of a luck game (due to changing conditions) and all I could do was go out and go for it."
That attitude paid off for the veteran and Bryan was able to make some of those small changes.
"For Bryan, it was the best jump of the whole week," said USA Nordic Head Coach for Nordic Combined Martin Bayer. "Bryan has been the most consistent through the summer, and now hopefully he continues that to breakthrough to the top ten" he added.
Fletcher put together a strong race for his first effort of the year. His time was 11th in the field, and only 19 seconds off the pace but the length of the race paired with the spread out field made if tough to move up the results sheet. "Overall it was a good first day," said Fletcher. "Just need to keep the head down, keep working and improving."
The Nordic Combined skiers have two more competitions this weekend. Tomorrow Bryan will be joined by teammates Taylor Fletcher (brother) and Ben Berend.
Results here.